Frieze Masters 2013 and highlights from other exhibitions across London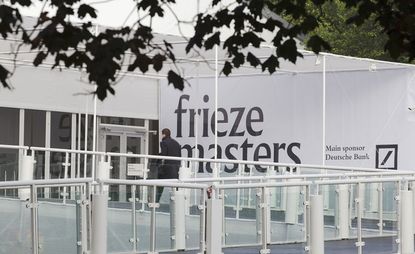 (Image credit: TBC)
The consensus was that Frieze Masters, now in its second year, is a triumph. Exhibitors pulled out the stops to curate mini exhibitions within a pavilion, which makes Frieze Contemporary feel like Oxford Street during the sales. There are many solo shows - Edward Burra at Lefevre Fine Art, Kishio Suga at Blum & Poe and Alice Neel at Victoria Miro - and those who have group works were very coherent in their approach. At Skarsted, black-and-white-only works by Richard Prince, Keith Haring and David Salle were selected. London partner Bona Montagu said, 'We have migrated here from the Pavilion of Art and Design (opens in new tab) and, like everyone, we have been careful to create a chic presentation.'

The aim of Frieze Masters is to bring 'old' works (i.e. those made before 2000) under contemporary collectors' noses, and the juxtaposition of old and new is in evidence everywhere. Religious iconography and ancient Navaho blankets share aisles with Pop Art pieces from Allen Jones and Martin Kippenberger's 'Fred the Frog Rings the Bell' (a wooden frog on a crucifix). Swiss gallery Koetser has suspended Dutch still lifes from the 1600s in frames made of wooden palette boxes from the ceilings so you can walk around each one.
See more from the main event, Frieze Art Fair London 2013
For Patrizia Sandretto Re Rebaudengo, Italian collector and patron of the new annual Re Rebaudengo Serpentine grant (opens in new tab), Frieze Spotlight is the highlight. Here, 23 galleries hold a solo shows of artists they feel are ripe for rediscovery. 'It is beautifully laid out and you can really see each artist's work and discover new pieces,' says Re Rebaudengo. 'My favourite was Berlin gallery Johann König, which is exhibiting a collection of works by the Austrian artist Kiki Kogelnik.'

As always, galleries around town are also out to impress. Victoria Miro has opened a new Mayfair space with recent 'infinity net' paintings from Yayoi Kusama and is presenting a new series of self-portraits by Brazilian artist Adriana Varejão at its Islington mothership. The Delfina Foundation is presenting films by Turkish artist Asli Çavuşoğlu at its still-in-the-works expanded space while The Serpentine is showing off its new Sackler Gallery with a site-specific work by Argentinian artist Adrian Villar. Blain Southern meanwhile has opened a Candy-themed double header from Damien Hirst and late Cuban artist Félix González-Torres, and Rob and Nick Carter are adding a digital twist to old masters at the Fine Art Society.
Blum & Poe (opens in new tab): LA gallery Blum & Poe held a solo show of the work of Japanese artist Kishio Suga, one of the leading figures of Mono-ha. Meaning 'the school of things', it was a movement in late 1960s Japan, in which a group of artists, inspired Italian Arte Povera and American minimalism and land art, created sculptural works from natural and industrial materials
Lisson Gallery (opens in new tab): Last Saturday, when exhibitors were setting up their booths, reclusive artist Richard Long arrived with buckets of mud from Dartmoor and started recreating his 1994 work, 'Muddy Water Circle' (pictured far left). It sold within hours and was a major talking point at Frieze Masters. It was shown alongside 'White Onyx Line', an earlier work from 1990
Watch Richard Long recreate 'Muddy Water Circle' at the fair. Courtesy the artist and Lisson Gallery
Lefevre Fine Art (opens in new tab): Alex Cocoran, director of Lefevre Fine Art decided on a solo show of late British painter Edward Burra. Says Cocoran: 'His landscapes are suddenly popular and with 60,00 people passing through Frieze Masters, it seemed good opportunity to widen his reach.' Pictured, 'Springfield, Rye (Cabbages)', c.1937
One of the highlights among the shows around town hosted to coincide with the fair is the Serpentine's inaugural show at its new Sackler Gallery. Remodelled by Zaha Hadid (opens in new tab), the space is a former munitions store and listed, so no works can be hung on walls. To wit, Argentinian artist Adrián Villar Rojas created a site specific installation which includes a giant elephant, red brick tiles and an imagined archive facility filled with remnants of contemporary culture. Photography: Jörg Baumann
Blain Southern (opens in new tab): A critic once described Damien Hirst's Spot paintings as visual candy. Hirst's response? To create a series of canvases featuring just that. Currently on show at Blain Southern, Hirst's 'Visual Candy' paintings are accompanied by candy spills by Cuban artist Félix González-Torres, who died in 1996. All across the gallery floor, piles of French Mini Dur bonbons are laid to specifications set down by González-Torres in 1992. Visitors to the gallery are invited to help themselves to the sweets.
Victoria Miro (opens in new tab): The eponymous London gallerist opened her new Mayfair gallery with a show of white infinity net paintings from Yayoi Kusama
Meanwhile, at its Wharf Road building in Islington, Victoria Miro is presenting 'Polvo', a new show by Brazlian artist Adriana Varejão. An exploration of attitudes to skin colour in Brazil, Adriana Varejão has created 11 self portraits with skin tones ranging from Branquinha (Snow White) to Moreñao (Big Black Dude), just two of 135 distinct definitions of colour produced by a 1976 survey in Brazil. The portraits are based on the 'casta' paintings of colonial Spaniards in Mexico who devised their own complex taxonomy of colour and racial diversity
The Fine Arts Society Contemporary (opens in new tab): Digitally manipulated, breathing nudes and moving insects within old master backdrops, conceived by Rob and Nick Carter, were on show at the Fine Arts Society. Using the latest technology, the artist duo have created a series of 'moving' paintings with recognisable origins. Their 'Transforming Still Life', 2012 (pictured) is the first digital contemporary art work to feature in the US Frick collection. 'Two years ago the technology didn't exist to allow us to make such works, but mixing the old and new feels very relevant,' says Nick Carter. 'I accept that the technology will date, but, for us, the works are about the time in which they are made' © Rob and Nick Carter
Delfina Art Foundation (opens in new tab): For Frieze week only, the Delfina Art Foundation opened its (unfinished) doors and put on an exhibition of three whodunit films scripted and directed by young Turkish artist Asli Çavuşoğlu. Entitled 'Murder in Three Acts' (pictured), it was filmed last year live and direct within the Frieze tent. 'I'm a big fan of forensic experts, of how they extract truth from physical artifacts,' says Çavuşoğlu. Delfina's chaotic building site, being transformed by London architects Studio Octopi and Cairo-based Shahira Fahmy, was the perfect setting. When the space opens in January, it will host up to eight artists in residence and provide studios, offices, a basement gallery a roof terrace and a charming communal dining area. Courtesy of the artist and Gallery NON, Istanbul. Photography: Taylan Mutaf
Emma O'Kelly is a contributing editor at Wallpaper*. She joined the magazine on issue 4 as news editor and since since then has worked in full and part time roles across many editorial departments. She is a freelance journalist based in London and works for a range of titles from Condé Nast Traveller to The Telegraph. She is currently working on a book about Scandinavian sauna culture and is renovating a mid century house in the Italian Lakes.