Sarah Lucas disrupts Franz West's Tate Modern survey in off-kilter meeting of art rebels
The impish Austrian artist gets his due in London with a major posthumous retrospective, including interventions by friend, collaborator and YBA icon Sarah Lucas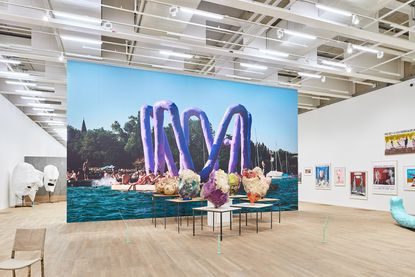 (Image credit: Photography: Luke Walker. Courtesy of Tate)
Wallpaper* Newsletter
Receive our daily digest of inspiration, escapism and design stories from around the world direct to your inbox
Thank you for signing up to Wallpaper. You will receive a verification email shortly.
There was a problem. Please refresh the page and try again.
The first posthumous UK retrospective of Austrian artist Franz West has surfaced at London's Tate Modern following a run at the Centre Pompidou. A chronological compendium of work spans the artist's anarchic career, curated by Mark Godfrey and Christine Macel with scenography by British artist Sarah Lucas.

This month, West is infecting London at a viral pace with David Zwirner gallery simultaneously offering sculptures and works on paper. West formed Zwirner's inaugural show in the 1990s: 'It was completely unsuccessful. We sold nothing,' recalls Zwirner. A few years and art sales later, West decided to move his work al fresco, much to the gallerist's surprise. '"Franz, with all due respect, since when are you interested in the great outdoors?'" he asked. 'Franz rolled his eyes, reached his finger into his nose, pulled out a sizeable booger, and in a nonchalant gesture flicked it onto the floor to clarify the creative process behind this new body of work.'
Back at the Tate Modern, West's immense outdoor sculptures inflict a visual onslaught before we've even reached the Blavatnik Building doors. These pneumatic lumps, gobstoppers and twisted tumorous tubes are phallic, fecal, intestinal or testicular depending on your angle or mood. The only reason they're not utterly repugnant is down to their candy-coloured resin lacquer. Rrose Drama (2001), Kugel (2006) and Omega (2008), bolstered in aluminium, resist the elements but not it seems, an inevitable plague of selfies.

West took a while to emerge. A combination of singular vision, feisty temperament and weakness for alcohol left him largely unacknowledged on Vienna's oversaturated 1970s art scene. Tate walks us through early maquettes collages and illustrations covering seedy sexual encounters, isolated figures and urination. Here, West is honing that sharp, satirical wit, through self-parody and the slating of his elders in the Viennese Actionist movement. 'In early years he wasn't given the opportunities,' says Godfrey, 'but by the mid-1980s he was adamant to be taken seriously.'

It's difficult to follow the artist's train of thought. It's even harder to distinguish the humour from sincerity. One thing West was serious about was flouting the sour-faced institutional doctrine: 'Please don't touch the artworks'. For him, audience input was non-negotiable. Tate obliges, providing four sculptures (replicas) for visitors to swing, poke and fondle at leisure without being escorted off the premises. Feeling self-conscious? Fear not, two curtained cubicles ensure that whatever happens between you and West's Passstücke sculptures is entirely your own business.
RELATED STORY
In the 1980s, the artist took viewer involvement to new heights. The results were furniture works where 'form follows function' becomes reversible, interchangeable and downright confused. Eo Ipso (1987), a sea-foam green chair construction resembles a child's slide and looks like it could have been fashioned by one, and Untitled (Sitz, [1988-9]) has an impracticality that verges on torturous. West's furniture is as batty as his art and twice as uncomfortable.

His friend, collaborator and YBA icon Sarah Lucas intervenes with plinths, pedestals and walls splattered with paint-filled eggs, a classic Lucas touch West would have undoubtedly admired – an egg in the face for institutional pomp. In the early 2000s, when West first invited Lucas to take part in a show, she admitted she had 'mixed feelings'. 'I was suspicious – in that young, pompous artist sort of way – thinking he must be after ideas!' she says, later realising his intentions lay in legitimate collaboration.

Precariously posed on Lucas' plinths are sculptures made in lo-fi, low-cost materials like iron and wood caked in liberal, unruly layers of plaster. Some involve West's interpretation of the ready-made: radios, brooms and even whisky bottles – 'Their form reminded me of their contents. I had poured it into myself and it was now my own,' he once explained. With Duchamp in mind, West also said, 'If I wanted to make a readymade today, I would make a pissoir, but one you could really piss into, in a museum.' Thankfully, his fully functional pissoir (Étude de couleur, 1991) did come to be, though not installed on Tate Modern's roof as he'd once hoped.
West's penchant for piss persists in a film exploring the history of toilet and urinal design shown in Auditorium (1992), a cinema-like installation with rows of sofas draped in rancid old carpets. Back on the sculpture trail, objects sprout wayward prosthetic limbs, resemble non-ergonomic sex toys or look dental (incidentally his mother's profession) with a random assortment of teeth that all appear to be making a dash for the exit. Further in, the supersize Epiphanie an Stühlen (2011) looms overhead, like a polystyrene virus or hot-pink Sputnik inducing terror, a chuckle or a little bit of both.
Seduced by naivety, naughtiness and piss taking in every sense of the idiom, we're lured into West's comedy sketch, but it's all a hoax. Beneath the layers of plaster and 'one-drink-too-many' chaos lurks a meticulously well-read artist with an acute understanding of psychology and relational aesthetics. He borrowed yet maintained originality; he repulsed and intrigued simultaneously. West knew, and still seems to know exactly what he's doing.
INFORMATION
'Franz West', until 2 June, Tate Modern. tate.org.uk
ADDRESS
Tate Modern
Bankside
London SE1 9TG
Receive our daily digest of inspiration, escapism and design stories from around the world direct to your inbox
Harriet Lloyd-Smith is the Arts Editor of Wallpaper*, responsible for the art pages across digital and print, including profiles, exhibition reviews, and contemporary art collaborations. She started at Wallpaper* in 2017 and has written for leading contemporary art publications, auction houses and arts charities, and lectured on review writing and art journalism. When she's not writing about art, she's making her own.