Spoiler alert: Fondation Cartier's blockbuster car photography show gets into gear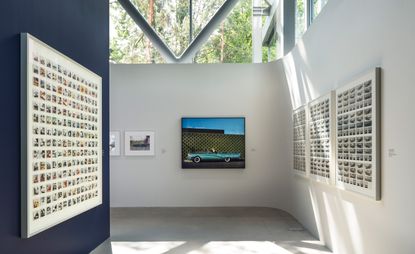 (Image credit: Luc Boegly)
The Fondation Cartier has devoted its entire exhibition space in Paris to a new show on cars – hundreds of them – without featuring a single actual vehicle. Instead, the fittingly named 'Autophoto' is focused on car-related photography from the early 20th century through the present, with various themes sending visitors through winding gallery lanes to discover works by the likes of William Eggleston, Robert Frank, Daido Moriyama, Ed Ruscha, Joel Meyerowitz, Seydou Keïta, Germaine Krull, Martin Parr, Hiroshi Sugimoto, Edward Burtynsky and at least 80 talents.

With over 500 images, the show ranks among the Fondation Cartier's largest to date; and yet the show steers clear of visual overload, in part because so many of the photos occur as series – an obvious parallel to the manufacturing of cars. Indeed, Fondation Cartier curator Leanne Sacramone told Wallpaper* that when curators Xavier Barral and Philippe Séclier first proposed the idea, one of their more compelling points was the shared history of both car and modern camera and how such notions as speed – whether via engine or shutter – and reproducibility are inherent to both.
But the thematic possibilities didn't end there, as the groupings of works makes clear. The opening section is titled Auto-Portraits, a clever double entendre given that this is the French term for 'self-portrait'. Here, visitors will find a wide range of aesthetically-motivated representations, from Yasuhiro Ishimoto's elegant series of old cars dusted with snow, to Fully Fueled, Basile Mookherjee's snapshots of young men from the United Arab Emirates, their flashy sports cars, and the towers that soar above, which altogether depict how such status symbols project their self-worth. Also on the main level are the images that clearly show how photographers such as Lee Friedlander, Robert Adams, Martin Parr, and Andres Gursky use cars as part of their process, framing the scene through a window, using the rear-view mirror for distorted perspective, documenting infrastructure, or situating the vehicle within a landscape to emphasise scale.

The lower gallery, meanwhile, reveals the creative license that photographers have employed when considering the sociological aspects of cars – how, beyond their utility, they reflect and relate to our way of life. Among the works that fall into this category are Jacqueline Hassink's Car Girls, a projected mosaic of the women on view at car shows around the world, which she spent six years compiling, as well as Stéphane Couturier's stylised and superimposed view of a Toyota factory, or else Jean Pigozzi's paparazzi candids of Liv Tyler and Jack Nicholson from inside their cars.
The final section, Car Excavations, will register to some visitors as most evocative, for it is here that the show explores the afterlife of the automobile and its confrontations with nature; Sugimoto's washed up car parts, Burtynsky's stark tire heaps, and Peter Lippmann's automobiles consumed by forest overgrowth suggest the traces left behind.

Sacramone noted that the exhibition isn't intended to impart any 'grandiose' takeaway as much as using the automobile as the common link to showcasing outstanding photography across time. The fact that show takes place in Paris where, despite ever-present traffic, few city-dwellers really drive, grounds the theme in somewhat ironic context.

'There's something to be said for that,' she agreed, noting how the French have long held a fascination for the American road trip (to wit, curator Séclier made a documentary tracing the path of Frank's famous book, The Americans). Wearing a wheel-inspired metal brooch designed by Constance Guisset, who oversaw the scenography, Sacramore noted how the show's deep dive will have broad appeal to those who are not auto aficionados. Because aside from all the self-contained journeys, many of the photos prove how our interactions with cars can prove so moving.
INFORMATION
'Autophoto' is on view until 24 September. For more information, visit the Fondation Cartier website (opens in new tab)
ADDRESS
Foundation Cartier
261 Boulevard Raspail
Paris 75014
VIEW GOOGLE MAPS (opens in new tab)