Wallow in Ragnar Kjartansson's epic riffs on Nordic melancholia at Louisiana Museum of Modern Art
Icelandic artist Ragnar Kjartansson brings his 'Epic Waste of Love and Understanding' to Denmark's Louisiana Museum of Modern Art (until 22 October 2023)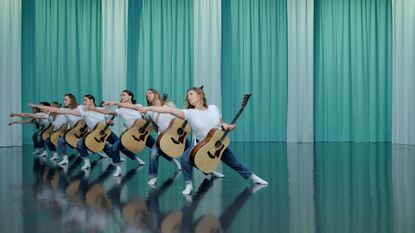 (Image credit: Commissioned by Sigurður Gísli Pálmason; based on a commission by the Iceland Dance Company in collaboration with Margrét Bjarnadóttir & Bryce Dessner © Ragnar Kjartansson)
Wallpaper* Newsletter
Receive our daily digest of inspiration, escapism and design stories from around the world direct to your inbox
Thank you for signing up to Wallpaper. You will receive a verification email shortly.
There was a problem. Please refresh the page and try again.
The Icelandic artist Ragnar Kjartansson is tickled. His first retrospective in Scandinavia is opening at Louisiana Museum of Modern Art, north of Copenhagen.
'It's pieces from my oeuvre,' he says with a comic drawl. Kjartansson has never taken himself too seriously, even now as a world-famous artist: 'I find the idea of properness so crazy. It's just totally nuts.' He's speaking from Louisiana – the pinnacle of 'properness' – on a sunny morning, with birds heard singing in the background. It's so beautiful that it's hard not to laugh. And we do, constantly.
The title 'Epic Waste of Love and Understanding', filled with Nordic melancholia, was inspired by Kjartansson's wife, artist Ingibjörg Sigurjónsdóttir. 'We were having an argument and she said, 'I hope this is not just an epic waste of love and understanding,' and I said, 'Hold it there!"' A plywood monument in Louisiana's courtyard is a memorial to the epic waste, like the theatrical set of a cenotaph.
Kjartansson was brought up in the theatre, with famous Icelandic actors for parents. The earliest work at Louisiana shows his mother Guðrún Ásmundsdóttir spitting in his face – the first in a series that Kjartansson has returned to every five years. And yet, there are crucial differences between art and theatre: 'What I love about visual art is the ambiguity of things and the adventures that art allows one to go on.' Kjartansson never wants to dictate how an audience should feel about his work. He likens his mantra to a Rolling Stones song – 'No Expectations'.
Learning lines and rehearsing have shaped Kjartansson's use of repetition and marathon-like duration. At Louisiana, Kjartansson appears as a crooner, singing 'Oh why do I keep on hurting you?' on repeat (Mercy (2004)), and a troupe of actors perform the final aria of Mozart's The Marriage of Figaro for 12 hours straight (Bliss (2020)).
In the iconic A Lot of Sorrow (2013-2014), the American rock band The National play their hit 'Sorrow' for six, emotionally wrought hours. These feats of endurance do something extraordinary to lyrics, making words sound strange, or like the whispered prayers of liturgy.
Kjartansson is recording a new performance at Louisiana with actress and comedian Saga Garðarsdóttir. The pair will drink whisky and listen to 'Hver dag er en sjælden gave' ('Every day is a rare gift') by 1940s Danish popstar Elsa Sigfúsdóttir for 11 hours, while repeating a familiar Danish phrase in Iceland: 'What have we done to deserve this?'
For Kjartansson the words are 'inspired by the gorgeous properness of Louisiana and the mysterious privilege we all have when we are here'. The phrase highlights the shared history of Denmark and Iceland, and the residue of colonialism.
Kjartansson's work possesses an essential human quality that often captures the zeitgeist, as with The Visitors (2012). In a mansion in upstate New York, Kjartansson and a group of musicians play the song 'Once again, I fall into my feminine ways' in separate rooms before spilling out onto a meadow. It's been compared to the experience of isolation and joyful reconnection through Covid-19.
A proud feminist, Kjartansson frequently pokes fun at masculine identity. At Louisiana, the theatrical remains of Hitler's Lodge (2006) lie in ruins and a tuxedoed-man teeters on a ledge. The Bangemand (2023) ('scared man') 'has the identity of the problem, and he is just there, scared on a ledge in a tuxedo'.
Reflecting on his play with male characters, Kjartansson highlights the influence of feminist performance artists like Carolee Schneemann and Marina Abramović. Kjartansson is a lover of art history: 'I am just totally in awe of the world and all its mystical beauty and mystical violence.'
Does Kjartansson see his own work as shocking? 'No,' he laughs, 'I see my work as very proper!'
Ragnar Kjartansson, 'Epic Waste of Love and Understanding' is at Louisiana Museum of Modern Art, Gl. Strandvej 13, 3050 Humlebæk, Denmark, until 22 October 2023, louisiana.dk
Receive our daily digest of inspiration, escapism and design stories from around the world direct to your inbox