'Mother!': artists interpret the many facets of motherhood in Denmark show
Fertility, sacrifice and surveillance are just some themes examined in the group show 'Mother!', at Denmark's Louisiana Museum of Modern Art, coinciding with Mother's Day 2021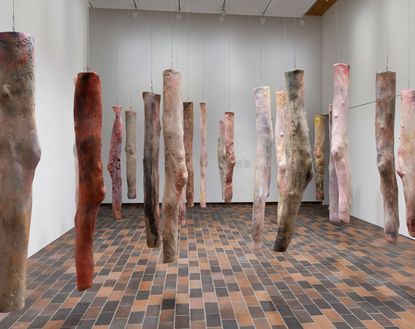 (Image credit: Anders Sune Berg)
Isamu Noguchi is best remembered for monolithic stone sculptures, ethereal paper lights and organic furniture designs. Lesser known is the fact that he created the first baby monitor. 'Radio Nurse', as it was tagged, was commissioned by the Zenith Radio Corporation in the 1930s, to allow parents to better keep track of their infants following the notorious Lindbergh kidnapping. Made out of Bakelite – an early form of plastic – the device was shaped like an inverted water drop, with a horizontal grille that recalled Japanese kendo masks and a caped back reminiscent of a traditional nurse's headdress. Its distinctive form earned it a spot at the Whitney Museum's annual sculpture exhibition in 1939.

Today, a 'Radio Nurse' is one of more than 140 exhibits at 'Mother!', a multidisciplinary exhibition at Denmark's Louisiana Museum of Modern Art. It is an evocative piece, but its inclusion is unconventional, given its male authorship and its suggestion that technology could take on a caregiving role traditionally fulfilled by a mother. Curator Marie Laurberg explains that this is precisely the point: 'Mother!' is an exhibition that investigates the story of motherhood in modern Western art and culture, and that goes beyond the role of the mother as a giver of love and life to encompass complex and existential themes.
The exhibition begins, appropriately, with a section titled 'Madonna', showing how artists have refashioned the image of the Virgin Mary to reflect the aspirations and concerns of our time. Contrasting with Dieric Bouts' 1454 Mother with Child, a portrayal that intertwines motherhood and sainthood is a work by 20th-century American portraitist Alice Neel that has a bleary-eyed mother cradling her equally disoriented baby, a candid depiction of the struggles of parenting. Alongside are a self-portrait by Catherine Opie, nursing her son while displaying the scar of the word 'Pervert' that had once been carved across her chest, and Mason Poole's photograph of Beyoncé with her newborn twins, an apotheosis of Black motherhood that has garnered more than 10 million likes on Instagram.

'Mother!' follows in the footsteps of Louisiana's 2018 exhibition 'The Moon', which similarly brought together art, design, literature, film, music, and other cultural and medical artefacts under one overarching theme. It is gratifying to see how the same ideas have motivated creators over the years and across disciplines: the second section in the exhibition, addressing memories of motherhood, is anchored by a first-edition copy of Marcel Proust's In Search of Lost Time, which begins with an early memory of the author awaiting his mother's goodnight kiss (It is deftly juxtaposed with Sophie Calle's elegy to her mother, Rachel, Monique).
A section on mothering includes Alfred Hitchcock's Psycho, in which a serial killer dresses as his dead mother to murder young women, and the Joni Mitchell song Little Green, imagining the future of the baby daughter whom the musician had to give up for adoption; while another section on fertility includes an ivory anatomical model of a pregnant woman, from 18th-century Germany, and a uterus-shaped amulet from Central America that was believed to enhance reproductive powers.

'When we started working on this show, some people wondered if this would just be an angry feminist exhibition about the 70s,' Laurberg recalls. 'But we really wanted to go beyond the clichés, the images you already know, to contribute with something new. Our images show the big discussions about the value system of the contemporary moment – what are the roles of women in society, but also, what are the premises that our most intimate relationships are negotiated on?'
She is particularly proud to have Grace Jones' maternity dress in the exhibition's final section, 'History of Motherhood: Nine Highlights', that had been created by Jones' then-partner Jean-Paul Goude and fashion designer Antonio Lopez. The constructivist outfit wrapped Jones in colourful geometric panels that diverted attention from her protruding belly, so she could continue performing while becoming a mother. It's an ingenious piece of fashion, but also a commentary on the pressures that continue to be felt by working mothers today. As Laurberg points out, 'When you see this maternity dress, it seems both really sad and also so creative. So it speaks really to art's power to create change'.

Multidisciplinary though the exhibition may be, the star attractions are by contemporary talents. 'There's a whole new generation of artists, both women and men, who are renegotiating or discussing motherhood in their work. I think it has to do with a new interest in intimate relationships, but also the idea that you're seeing in Karl Ove Knausgaard's writing, that your own life could be the starting point for discussing broader issues,' contends Laurberg. Artists like Kaari Upson, whose Mother's Legs comprises 26 flesh-coloured trunks suspended from the museum's ceiling, enticing the viewer to embrace them as a child would wrap their arms around their mother's leg. Or Petrit Halilaj, who explores notions of belonging through an enlarged replica of the earrings his mother once buried in their garden when the family had to flee the Kosovo War. The earrings are covered in soil from the artist's hometown of Runik, bringing together the artist's affection for his mother and his motherland.
Most captivating of all is Laure Prouvost's new commission Mootherr, which the Turner Prize-winning artist describes as being 'about anxiety and pleasure, anger and extreme beauty.' Within a mirrored room, Prouvost created a giant octopus – an animal known for dying soon after it lays its eggs. This octopus has human breasts where tentacles would usually appear, which illuminate at intervals to mesmerising effect. Below is a pool of dark ink, strewn with seaweed and electronic waste, and projected with a video that shows a laser scanner in action; in the background, one hears heavy breathing interspersed with recorded conversations between the artist and her son. The installation bundles fertility and caregiving, sustenance and sacrifice, surveillance and ecological crisis. As the artist reflects in an interview for the museum's video platform, Louisiana Channel: art should be 'something that makes you see the world slightly differently, or gets your imagination going.' In these endeavours, the 'Mother!' exhibition has succeeded magnificently.
INFORMATION
'Mother!', until 29 August 2021, Louisiana Museum of Modern Art, Denmark, louisiana.dk
ADDRESS
Gl Strandvej 13
3050 Humlebæk
VIEW GOOGLE MAPS (opens in new tab)
TF has been editor of Wallpaper* since December 2020. He is responsible for our monthly print magazine, planning, commissioning, editing and writing long-lead content across all our content pillars. He also plays a leading role in multi-channel editorial franchises, such as our annual Design Awards, Guest Editor takeovers and Next Generation series. He aims to create world-class, visually-driven content while championing diversity, international representation and social impact. TF joined Wallpaper* as an intern in January 2013, and served as its commissioning editor from 2017-20, winning a 30 under 30 New Talent Award from the Professional Publishers' Association. Born and raised in Hong Kong, he holds an undergraduate degree in history from Princeton University.