American artist Rachel Rose reaches for the sun and the moon in her Nordic exhibition debut
Rachel Rose's 'Good Morning Midnight' at GL Strand, Copenhagen, centres on her cinematic Enclosure (2019) and recent video The Last Day (2023)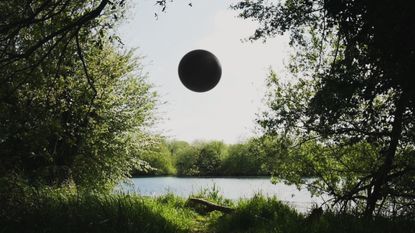 (Image credit: © Rachel Rose, courtesy of the artist, Gladstone Gallery and Pilar Corrias Gallery)
Wallpaper* Newsletter
Receive our daily digest of inspiration, escapism and design stories from around the world direct to your inbox
Thank you for signing up to Wallpaper. You will receive a verification email shortly.
There was a problem. Please refresh the page and try again.
The sun and the moon are the guiding lights of Rachel Rose's exhibition at GL Strand in Copenhagen. Their celestial movements speak to the passage of time and our shifting relationship with the natural world. In her eponymous print Good Morning Midnight (2022), 'a giant florescent headlight is blasting towards the setting sun', Rose explains. Natural and artificial light sources meet, just as the day's beginning and end collide.
Rachel Rose, 'Good Morning Midnight, at GL Strand
Rose's show is anchored by two films, which at first glance appear to have little in common. Enclosure (2019) is set in 17th-century agrarian England and filled with reference to alchemy and animism. 'The black orb replaces the sun. It's a symbol of the future, for an era in which the sun isn't the primary temporal force in the day anymore,' says Rose, 'and the clock is.' A cult-like group called 'The Famlee' swindles peasants out of their land at a time when a new law called the Enclosure Act was setting boundaries across communal farmland.
'I'm looking at this moment of land destruction, violence, and privatisation in which the forest, the field, the countryside is being reshaped,' says Rose. As the film develops, the orb is obliterated and the sky that once meant so much is no longer relevant.
The Last Day (2023), which has its European premiere at GL Strand, uses the sun's cycle to represent epic changes in world development. Across 900 medium-format photographs of her son's bedroom, Rose tracks the movement of the sun, from sunrise to sunset to sunrise again, accompanied by Disney scores of youthful memories. The final scene is illuminated by 'a kind of live magic carpet'.
For Rose, the carpet of our childhood bedroom is 'the first landscape' where 'we create miniature scenes and play with our Barbies and toys'. At the time, Rose was engrossed in Virginia Woolf's diaries and her own formative memories of her nursery. Looking inside her children's toy chest, she realised there was a whole history of time. Dinosaurs and construction trucks are a 'palimpsest – symbolically at least – of human and nonhuman life on Earth'.
As with all Rose's work, the genesis of The Last Day was an everyday experience, extrapolated out to the sublime. Almost a year ago, someone close to Rose's family died suddenly. Though Rose hadn't explained the idea of mortality to her two young children, her daughter began to talk earnestly about 'the last day' shortly after. All her toys would gather for a birthday party in her bedroom and have a sleepover.
'Well, what happens after the last day?' Rose asked. 'Nothing! It's the last day! There are no more days, it's the end of days.' It seemed only natural that her daughter's bedroom would form the backdrop to her subliminal understanding of life and death.
These two films are sutured together by a series of sculptures and drawings. Made from glass and rock, the Loop works (2021 and 2023) are 'relics of some ancient combination', while the drawings (all 2023) chart the daily experience of Rose's children – drinking milk, going to the park, taking a nap. 'What I'm doing is collapsing images that they absorb – the way that I see it and the way that they see it – collapsing all of these things into a singular thing.'
The webbed lines show how these different perspectives, both imagined and real, are knitted together. 'When you're a parent, you're in this continually empathetic state. You're always seeing things from their perspective, your perspective, and then there's this other perspective that's maybe more intuitive, or developmental, or primordial.' Together, The Last Day and Rose's drawings express this new way in which she thinks and feels. As she explains, 'art is a way of getting out of oneself and getting further into oneself at the same time'.
Rachel Rose's 'Good Morning Midnight' is on show at GL Strand, Copenhagen 23 August - 22 October 2023, glstrand.dk
Receive our daily digest of inspiration, escapism and design stories from around the world direct to your inbox