Chart art fair explores our material world in Copenhagen
This year's edition opens up new conversations about materiality, physicality, presence and our shared existence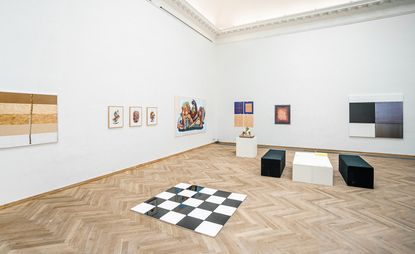 (Image credit: Joakim Züger)
Chart, the largest annual showcase of contemporary Nordic art and design, returns to Copenhagen from today through Sunday 1 September. Now in its seventh year, the fair is bigger and bolder than ever. In addition to the usual takeover of two landmark museums, Kunsthal Charlottenborg and Den Frie Centre of Contemporary Art, the programme also includes new locations throughout the city.

The theme this year is materiality: 'In the age of digital screens and virtual realities, contemporary practices are turning towards the use of physical materials and crafts. We want to explore how materiality, physicality and presence can open new conversations about our shared existence,' says Nanna Hjortenberg, director of Chart.
Rare for a fair of its scale, Chart is run as a non-profit, the joint effort of multiple regional galleries to champion established and emerging talents at an international level. Compared to a commercial enterprise, it's more original, coherent and convivial, the perfect interlude between summer and the inevitable surfeit of art world happenings further down the calendar. For those in the Danish capital this weekend, here is a list of highlights.

01 Chart Art Fair
Comprising 29 galleries, the art fair takes over Kunsthal Charlottenborg, a former palace and now the foremost art destination in central Copenhagen. The unconventional presentation – a lack of booths, and multiple galleries sharing a space – is as always a conversation-opener. Keep an eye out for newcomer Avlskarl Gallery, with a focus on painters affiliated with the Städelschule; as well as V1, one of the founding galleries, who is bringing 'an incomplete survey exhibition of birds in contemporary art', featuring a mix of Scandinavian and international names such as Robert Nava, Rose Eken and Misaki Kawai.

02 Chart Emerging
'The Gatherer, The Dumpsterdiver, The Raver, The Hunter, The Alien, and The Witch' is the title of Chart's programme for young artists, curated by Art Hub Copenhagen's Helga Christoffersen. The six characters in the title are the invention of Oslo-based artist-musician duo Tokyo Twins, who are presenting an eponymous performance piece that imagines a non-capitalist, consumer-free society. They headline a five-artist show, also at Charlottenborg, that looks at the embrace of fiction and creation of alter-egos as a means of facing reality.
03 Chart Architecture
The courtyard at Charlottenborg is home to pavilions by the five finalists of Chart's annual architecture prize, selected by a jury that includes artist Lea Porsager and Wallpaper* design editor Rosa Bertoli. From Ikea mattresses to recycled paper to latex cells, the pavilions each repurposes a common material in an unusual way, and hosts to a different food and beverage offering during the fair.

04 Chart Design Fair
A short walk from Charlottenborg, Den Frie is the first artist's association in Denmark and a unique architectural landmark, inspired by Egyptian temples and Greek mythology. It plays host to the design fair, which has refined its roster this year to focus exclusively on contemporary collectible design. The Nordics are home to few leading contemporary galleries – notably Etage Projects (which returns with a typically strong showing of pieces by FOS and Sabine Marcelis), so this year the fair has broadened its remit to include emerging design studios and design collectives that don't yet have gallery representation. We're especially looking forward to Catrine Raben Davidsen's wallpaper and Japanese screen, Stoft Studio's 'story-driven' design objects and Nick Ross' minimalist furnishings.
05 Alexandre Estrela: All and Everything
In an effort to improve institutional representation at Chart, and highlight the synergies between the Nordic and Central American art scenes, the fair has invited Mexico City's Museo Tamayo to present a satellite exhibition at Den Frie, featuring the Portuguese artist Alexandre Estrela (who is preparing a solo show at the Tamayo, to open later this year). Estrela's practice deals with the variability of time and space, and his two installations at Den Frie, The Golden Record (All and Everything) and Solar Watch will imagine planetary movements through a cast bronze solar system and a metal sundial respectively. Until 17 November.

06 Chart Curio: Matters – Rethinking Materials
The Designmuseum Denmark has unveiled a new series of vitrines in its outdoor Museum Plaza, just in time to be taken over by the fair's Curio programme – another platform for young design talent. Curated by Line Christiansen, the dean of Domus Academy, Curio will feature five designers (one from each of the Nordic countries) who have challenged the conventional understanding of usability and waste. We're especially taken by the work of Denmark's Kathrine Barboe Bendixen, who has rinsed cow intestines and transformed them into glowing lamps with an ethereal beauty. Until 29 March 2020.
07 Window Shopper
Fashion comes under the Chart umbrella for the first time with 'Window Shopper', an off-site exhibition developed by artist Esben Weile Kjær, and taking over display windows at the likes of Magasin du Nord and Mads Nørgaard. It's about 'the envy which people in the art world feel towards people in the fashion world, and art uttering its critique of capitalism as a love poem,' says Kjær, who has invited interventions from the Danish feminist icon Ursula Reuter Christiansen, and artistic duo New Noveta, among others.

08 Nasher Prize Dialogues
The highlight of this year's talks programme is a collaboration with the Nasher Sculpture Center (another example of Chart's efforts at engaging international institutions), bringing together Nina Baier, Martin Boyce, and Michael Elmgreen, to discuss the ways they deploy architecture and design within their artistic practices. The talk (31 August, 3-4pm, Apollo Canteen at Kunsthal Charlottenborg) anticipates Elmgreen & Dragset's solo exhibition at the Nasher, opening 14 September, and also coincides with their ongoing intervention at the Hammershøi galleries of the Statens Museum of Kunst, Denmark's national gallery. 'There I Belong: Hammershøi' by Elmgreen & Dragset is at SMK until 1 September.
Information
Chart 2019, 30 August – 1 September. chartartfair.com
TF Chan is a former editor of Wallpaper* (2020-23), where he was responsible for the monthly print magazine, planning, commissioning, editing and writing long-lead content across all pillars. He also played a leading role in multi-channel editorial franchises, such as Wallpaper's annual Design Awards, Guest Editor takeovers and Next Generation series. He aims to create world-class, visually-driven content while championing diversity, international representation and social impact. TF joined Wallpaper* as an intern in January 2013, and served as its commissioning editor from 2017-20, winning a 30 under 30 New Talent Award from the Professional Publishers' Association. Born and raised in Hong Kong, he holds an undergraduate degree in history from Princeton University.