Everybody Dance Now by Martin Parr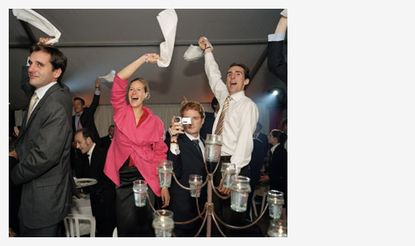 (Image credit: press)
"Photography is perhaps the most democratic form of human expression, second only to dance," says Martin Parr and he clearly knows. The photographer's latest book, 'Everybody Dance Now' is a collation, spanning 35 years, of people dancing.
See more of Parr's photographs from the book
Parr's uncanny knack of recording the incidental and making it seem quite monumental is put to brilliant effect on the subject. From gay nightclubs in Brighton, via a Jewish wedding in Finchley, north London to The Gambia, he's captured the moments when people throw caution to the wind, their hands in the air and start moving to music.
It's rarely a very gainly, dignified sight – more often than not humorous – but noone can argue that that the feelgood factor isn't visible on every face in every shot. Even though you can't hear the music there's something infectious about the unabashed joy and, seeing photograph after photograph of people united in silly expressions and gangling limbs, the message is loud and clear that the good nature of humanity is irrepressible – when the right song comes on, of course.
Rocket Gallery (opens in new tab) will have an exhibition of Martin Parr's rarest, oldest and most iconic photographs, taken from books spanning the length of his career, opening on November 11th.