Martin Parr's witty portrayal of British domestic life in the 1990s opens at Beetles & Huxley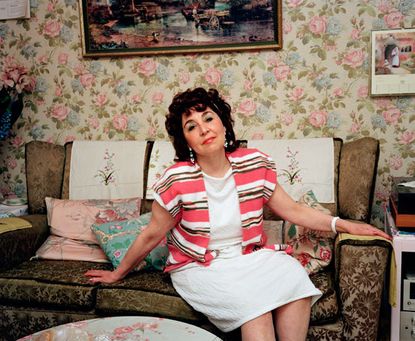 (Image credit: © Martin Parr/Magnum. Courtesy of Rocket Gallery)
Signs of the Times, a five-part series first broadcast on BBC2 in 1992, might be one of the most important British TV shows of all time. Subtitled 'portrait of a nation's taste', the documentaries took gimlet-eyed tours of 50 very different British homes with commentary from the people who made them.

As the name suggests, the show was detached and academic in its conviction that taste and taste systems were worthy of serious consideration at a time when cultural studies and semiotics were the favoured critical martial arts. But it was also smart, artfully shot and funny - if at times uncomfortable viewing, the camera holding its gaze during long, strange silences. It also proved to other programme-makers that the Great British public could be more than quiz-show fodder. Reality TV was not long in arriving.

Nick Barker, the director of Signs of the Times, asked photographer Martin Parr to take pictures to accompany the show, which were used in adverts and later collected in a book. Parr had already proven himself a ruthless documentarian of class and taste with 'The Last Resort' and 'The Cost of Living', and his influence on Baker is clear. For the first time, the pictures have been given their own show, put together by Beetles & Huxley in association with the Rocket Gallery.

Parr's shots make clear that these films were as much about relationships between people and their objects as the people they share space with - how much interior decor becomes an escalating, proxy war. Of course there is pathos and snobbery skewered - the fabulous titles are direct quotes from subjects and include 'We keep buying things thinking 'That'll look better' and it just doesn't' and 'Each to their own but I think this is going to be one of the best - if not the best - house on the estate'. As always with Parr there is also just enough understanding that, when it comes to class, taste and history, the battle to be on the right side can render us all ridiculous.
ADDRESS
Beetles & Huxley
3-5 Swallow Street
London W1B 4DE
Receive our daily digest of inspiration, escapism and design stories from around the world direct to your inbox