A deep dive into Elmgreen & Dragset's fictional worlds
The first comprehensive monograph of the Berlin-based duo charts their working practice and art, from performative pieces in the late 1990s to their most recent public projects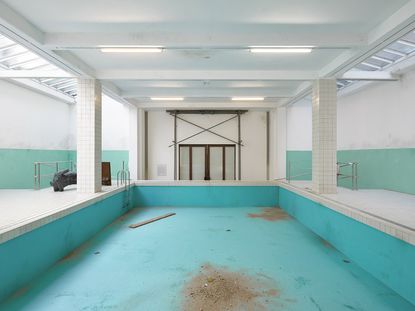 (Image credit: © Elmgreen & Dragset)
Berlin-based artists Michael Elmgreen and Ingar Dragset have never staged an official mid-career retrospective – but that's not because the opportunity hasn't presented itself. Rather, every time such a show is supposed to be produced, the industrious former Wallpaper* Guest Editors devise a new concept or body of work.

This was most recently the case at London's Whitechapel Gallery, where they created an all-encompassing installation centred on an abandoned public pool. Sure, there were also works from the 1990s and early 2000s on view, but those came only after making one's way through the dystopian setting. That being said, the new 158-page book Elmgreen & Dragset, published by Phaidon, might be the closest thing we ever get to a comprehensive survey of the duo's work – for now, at least.
During the book's launch at König Gallery in Berlin on 14 May, the artists admitted that – despite their international recognition – this is the first time they've worked with an equally established publishing house. The Scandinavian duo typically prefer to have complete oversight in all aspects of their printed matter, from the contributors to the layout to the paper quality – yet here, they have ceded some creative control to editor Michele Robecchi and followed the fixed format of Phaidon's Contemporary Artists series.
RELATED STORY
There is an interview with Linda Yablongksy, an essay on the artist's overarching practice by Martin Herbert, a text focused on their early body of work Powerless Structures by Connie Butler, and a visual tour of their studio with images made by photographer Jason Schmidt. In addition to these external contributions, however, Elmgreen & Dragset also developed a small section of artists' writings, for which they were given carte blanche. Scans from previous publications, such as those produced for their exhibition 'Tomorrow' at the V&A (2013–14), are intertwined with more intimate ephemera, like a personal snapshot from the photographic series The Incidental Self (2006) overlaid with a poem by Elmgreen.

While the bulk of the monograph reads like a traditional survey (one that in this case is much needed, as no other exists), it is here, in these eight pages, that the publication turns away from a standard art book format and returns to the idea of an artist's book – one in which Elmgreen & Dragset once again show that they are never short on ideas, no matter the supposed confines or limitations of a project.
INFORMATION
Elmgreen & Dragset, £35, published by Phaidon (opens in new tab)