Tension, freedom, restraint: Elliott Puckette crosses the line at Kasmin New York
Artist Elliott Puckette talks doubt, contradictions, and venturing into sculpture at Kasmin New York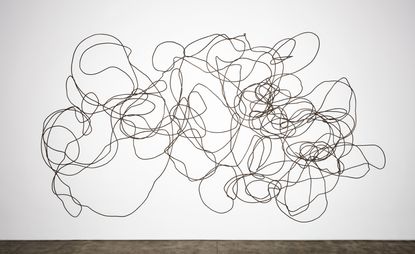 (Image credit: Stephen Kent Johnson)
Elliott Puckette's new show at Kasmin, her ninth with the gallery, occupies a 3,000 sq ft space on 509 West 27th Street, designed by Studio MDA. Afternoon winter light permeates coolly through the 20 or so skylights in the poured concrete ceiling and onto Puckette's new works, which include paintings of varying sizes, several works on paper, and two sculptures, the last marking a new development for the artist.
Elliott Puckette: a decades-long obsession with the line
Puckette is best known for her abstract line paintings of swirling arcs and meandering squiggles. The Kentucky-born artist has a decades-long obsession with the line, which she describes as having 'more possibilities than shape or colour', although it's neither overtly calligraphic nor directly figurative. 'I was always interested in graphology – not necessarily what someone was writing but reading into the psychology of how it's written,' she discloses, citing artist Henri Michaux's imaginary alphabets as influential; 'It's a kind of asemic writing, open to interpretation.'
Puckette makes all her paintings in the same painstakingly methodical way. Working always by herself, she first preps all her boards (although she will only work on one at a time) with her own recipe of gesso, which blends acrylic with powdered clay kaolin (after developing an allergic reaction to the marble dust used in traditional gesso years ago, she had to create her own). Puckette applies about a dozen layers, letting the gesso dry each time before sanding to a paper-smooth finish. Then ink is washed over the boards – most often dark greys, black, occasionally blues and rich purple. She draws her line with a piece of chalk, fast and freehand, before cutting into the dry inky surface with a razor blade to reveal the white gesso beneath: 'It's subtractive,' she says.
She then works over the line, making micro crosshatches, shaping its thinness and thickness as she goes. Catch the board's surface in the right light and you can glimpse the subtle indentation. The line on her white boards is made slightly differently: 'I put gouache on the ground, then I draw the line and etch it in with a razor blade, and then put ink in the line, so it's more like an etching.' The process is arduous and lengthy, but meditative. 'You really get in the zone. It's perfect for these times,' she says.
Puckette is of course referring to the juddering standstill underscored with the chaotic maelstrom of our recent times. Each work in her New York exhibition possesses freedom and restraint; the fluidity of the line, drawn instinctively, playing against the precision of her minuscule crosshatches. We are all grappling to some degree with losing control, making a graceful submission. Has this sensation become heightened to Puckette? 'I think daily doubt isn't such a bad thing,' she says. 'There is no certainty in anything, it's exhausting, the not knowing. But I wouldn't want a world without doubt.'
While Puckette's works have an element of chance – 'a throw of the dice', as she puts it – her new works evolve this established theme with subtle but distinct differences. Each painting began life as a small-scale maquette of wire, which Puckette twisted and contorted. The line drawn on the board mirrors the form of the maquette and, whereas previously she created a continual ouroboros loop, now she depicts the start and end of the line in her paintings – the start and end of the maquette wire. Each time, she recycles the wire and begins again. 'I wanted to see if the ephemeral nature would still hold in the sculptures, in something as substantial as bronze. It's a contradiction that interests me.'
The larger of the two sculptures appears suspended in mid-air. It is made from 117 pieces of individually cast and soldered bronze and created in collaboration with Workshop Art Fabrication foundry in upstate New York. 'The hardest part was letting go of control, but I knew I had to hand it over to the professionals,' she says. 'This was our first and only attempt. There is a giant almanac of soldering instructions explaining which pieces go next to which, and each is numbered so we could see where they all connect.'
Puckette goes to her studio in Dumbo, Brooklyn, every day, the same space she has worked in for over 30 years. 'It's part of my routine,' she says. 'It's the space I feel safest. I got it in 1989 when I first graduated from art school. It's a funky old building, very ramshackle, nothing tweaked about it at all, a bit of old New York.'
Now that the show is open, will she take even a day off to recharge? 'I like to have the motor running all the time, otherwise it can be hard to get going again. I've already primed a bunch of panels which are just winking at me in the studio.'
INFORMATION
Elliott Puckette is at Kasmin until 26 February 2022. Kasmin will publish her first major monograph later this year. kasmingallery.com (opens in new tab)
Tilly is a British writer, editor and digital consultant based in New York, covering luxury fashion, jewellery, design, culture, art, travel, wellness and more. An alumna of Central Saint Martins, she is Contributing Editor for Wallpaper* and has interviewed a cross section of design legends including Sir David Adjaye, Samuel Ross, Pamela Shamshiri and Piet Oudolf for the magazine.
With contributions from