'Electric Earth': Doug Aitken on his mid-career survey at MOCA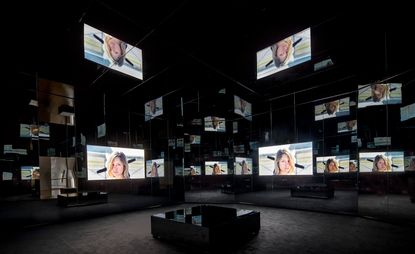 (Image credit: Norbert Miguletz)
Photography, sculpture, film, collage, sound, or simply immersive, perception-altering installation. Over the past two decades one could easily define Doug Aitken by any of those mediums, but in the context of 'Electric Earth', his first mid-career survey in North America at MOCA's Geffen Contemporary in Los Angeles, it's probably best to think of the Angeleno artist as an experimental experientialist. One who wasn't too keen on the broad strokes concept of a retrospective when MOCA director Philippe Vergne presented it to him two years ago.

'At first I was a little reluctant because I thought this will be something that is rigid and highly curated, but the more I worked with Philippe it was something that became more organic,' says Aitken. 'The exhibition is like a constellation of works, but it's almost like one work. I think it's going to be very experiential. It's almost like a large subconscious film set that people can get lost in and create their own narrative out of.'

That narrative begins in a darkened iteration of the Geffen, where visitors are immediately met with Aitken's totemic mirror and light box wall works Sunset (black), 100 YRS (neon), and NOW (Blue Mirror). They form touch points for the seven-channel, 360-degree aluminium/PVC screen looping his 35-minute, video panopticon SONG 1, which features actors (including Tilda Swinton) and everyday people singing the Flamingos' classic 'I Only Have Eyes For You.'

In 2012, Aitken projected the piece onto the skin of the Hirshhorn Museum's rotunda gallery — much like his 2007 takeover of the Museum of Modern Art's facade in New York with his outdoor installation of Sleepwalkers — but the MOCA presentation can be experienced inside the screen's womb or outside its perimeter (with vantages from nearly every point in the museum) giving a Big Brother sensibility to the strobic sequence. The pulse continues to race inside his Black Mirror installation — a disjointed series of (sometimes explosive; mostly contemplative) road trip scenes starring Chloë Sevigny — within a mirrored hexagonal chamber that resides opposite four of the artist's Chemical Series photos, made by splashing prints (from his 2013 cross-country train happening Station to Station) with hydrochloric acid, codeine, Ambien and Prozac.

More meditative moments can be found just below the mezzanine, where Aitken has installed a collection of his mixed media Ultraworld collages — static, if energetic, blueprints for his multimedia extravaganzas — next to a mesmerising six-screen installation for Diamond Sea, his rarely screened exploration of a mine in the Namibian desert. For those more inclined to classic film setting, there's also a cinema screening his 'linear films', ranging from 1992's Inflection to the 2015 documentary feature (in 62 one-minute segments) Cliff's Noting the Station to Station odyssey.

'The architecture creates the narrative and the art has to function within that narrative but we really felt strongly about rebuilding the space, making rooms where there were none and excavating parts of the floor and bringing in billboards and looking to disrupt it,' says Aitken. Those architectural edits include the milky white acoustical pool excavated for his hypnotic Sonic Fountain, the plywood mini-kunsthalle for 99 Cent Dreams, the artist's 2008 series of chromatically-arranged photos (documenting everything from vacant parking lots to lush sun and seascapes to a downed moped-driver in the courtyard of the Salk Institute); his scrim veil video maze containing the titular Electric Earth film; and the three-monitor, plywood-platform setup of these restless minds, the artist's trippy 1998 film exploration of the auctioneer's mental landscape. 'I wanted to create this condition where you're no longer in a museum, no longer downtown, no longer in Los Angeles, no longer on the west coast, you're not really anywhere, you're just inside these ideas.'

And he's not stopping there: when Aitken unveils his forthcoming Underwater Pavilions — 'large kaleidoscopic caves that float under the ocean,' according to the artist — off the shores of Catalina Island later this fall, museum-goers will literally be swimming in those ideas.
INFORMATION
Doug Aitken's 'Electric Earth' is on view at MOCA's Geffen Contemporary in Los Angeles until 15 January 2017. For more information visit Doug Aitken's website (opens in new tab) or MOCA's website