Doug Aitken takes the scenic route across Massachusetts with mirrored hot air balloon
The American artist is scaling new heights with an installation that reflects the area's natural beauty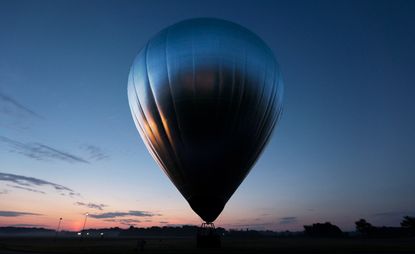 (Image credit: Courtesy of Doug Aitken Workshop and The Trustees)
For two weeks in July, a mirrored sphere is taking flight above the eastern US coastline and western Berkshire mountains of Massachusetts. Reflecting back the sun, clouds, and natural surroundings, the nomadic piece of public art is Doug Aitken's response to many of the most beautiful places in Massachusetts protected by The Trustees of Reservations. The Trustees is a non-profit conservation group, which commissioned Aitken's project, New Horizon.

Of the natural spaces protected by The Trustees, Aitken first visited the Longpoint Wildlife Refuge on Martha's Vineyard. It is an ecological wonderland where dirt pathways snake through a dense forest that opens up to a marshland estuary feeding directly into the nearby Atlantic Ocean. After visiting many of The Trustees' properties thereafter, Aitken imagined a simple idea: a hot air balloon sheathed in shiny, silver mylar that could be weightless, untethered to the landscape, simply showing onlookers, in an albeit distorted fashion, what is already there.
Aitken created New Horizon after he made Mirage, a ranch-style house clad in mirrors that he placed in the California desert in 2017. The house appeared and disappeared, changing according to the weather and sunlight. Aitken wished to push the idea to a new extreme where the work is not fixed to one place: 'The idea is that the project can be in motion. While it is actually flying, we have designed the sculpture, the gondola, so it can be a nomadic studio. For example, maybe an electronic musician who improvises in it can create a soundscape influenced by what's below him or her.'

To adapt the typical hot air balloon, Aitken and his studio tapped into the ballooning subculture in Albuquerque, New Mexico, home to an annual international balloon fiesta. 'The transformation from idea to reality was a very unusual one,' Aitken explains. 'As an artist I'm very interested in ideas, sometimes you have an idea and you don't know how to make it real, you're unfamiliar with materials or process. That to me is a very interesting stage because you find yourself creating bridges, collaborating with different individuals.' In New Horizon, the standard nylon balloon fabric has been coated with mylar, and the gondola, traditionally a wicker basket, is made from mirrored fibreglass with acoustic padding and wiring for audio and video recording equipment.
RELATED STORY
Artist's Palate: Doug Aitken's Neuchâtel fondue
The project harks back to the land art of the late 1960s, like Robert Smithson's Ithaca Mirror Trail where the artist dotted the landscape with mirrors. Aitken also uses the term 'happenings' – a piece of 1960s nomenclature describing experimental artistic performances that take place outside the boundaries of museums. Aitken's happenings are a series of evening events at each landing site for New Horizon. Intellectual conversations on the future of creativity, climate, information, identity, and culture will be followed by musical performances. To accompany the latter, Aitken created a second balloon covered in thousands of programmable LED lights to become what he describes as a 'generative light sculpture', responsive to 'sound it hears in real time or the wind speed'.

Relishing in improvisation and how a new setting or unorthodox platform may produce a moment that cannot be predetermined, Aitken's chosen mode of flight is especially unpredictable. The schedule of flights and happenings are planned, but they are inherently impromptu affairs. The balloon can only take off if the weather conditions are just right. An errant gust of wind or increase in temperature can foil months and months of logistical work. It is fitting for New Horizon, a work that hopes to not be a singular piece of art inertly plopped in the landscape, but a multiplicity of things, changing as the world does around it.
INFORMATION
New Horizon, until 28 July, various locations across Massachusetts. dougaitkenworkshop.com, thetrustees.org
Receive our daily digest of inspiration, escapism and design stories from around the world direct to your inbox