Artist's toolbox: Donald Judd's writings reveal a whole new layer of meaning to his work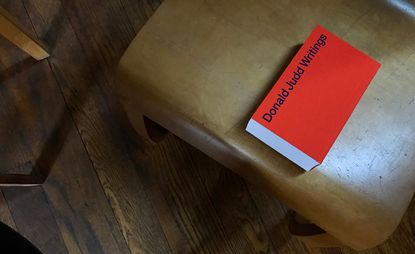 (Image credit: Flavin Judd)
During his lifetime, Donald Judd (1928–1994) compiled four major collections of his writings. These volumes, which include his gallery reviews, book reviews, essays, articles, statements and reports have until now been considered the artist's written work in its entirety. But a new collection, Donald Judd Writings, containing previously unpublished essays and hundreds of insightful daily notes, is now available in a beautiful cloth-bound, brick-like form. Co-published by the Judd Foundation and David Zwirner Books, it has been in design development for over two years.

Judd's son Flavin, who oversees the artist's legacy with his sister, Rainer Judd, worked collaboratively with Judd Foundation archivist Caitlin Murray and designer Michael Dyer, of Remake in New York, to produce the dense edition, which he refers to as 'a toolbox'. In over 1,000 pages of Judd's writings he hopes readers will 'find something useful, something that can be a tool for future use. We hope that Don's thoughts, ideas and complaints can be used by others to create.'

It is ordered chronologically and where appropriate notes Judd's location at the time he was writing. 'It was very important that it contained absolutely everything worth printing in one volume,' says Judd, who was 25 when his father died in 1994. It is effectively a 'verbal sketchbook' of the artist's life. 'There is repetition and changes throughout,' he adds. 'You are able to see the transition of thought from the beginning to the end and because of its completeness it adds a whole new layer of meaning [to Don's work].'

Since his father's death, Judd has been back through every piece of the artist's writing and transcribed handwritten notes (personal musings, opinions of art and literature, political views, criticisms of people and society) that he found in his journals.

'There were some notes that seemed directly related to conversations I remember having with Don,' he says. 'The conversations were either pretty abstract or about history or art and they tended not to end. Rainer and I were probably the only ones who could talk completely frankly to Don and get away with it. Everyone else, employees, seemed afraid. We could ask tough questions and if you can ask tough questions it leads to long discussions.'
The process of putting the book together was arduous, with Judd sometimes spending up to eight hours deciphering one word of his father's scrawled handwriting. 'I have a whole page in my own sketchbook where I rewrote his words to figure out what certain things were,' he says. But it was also a beautiful experience for Judd: 'It's about as close as you can get to someone again when you are with what they wrote.'

Michael Dyer first began working with Flavin and Rainer Judd on a new identity of the Judd Foundation, which was revealed prior to 101 Spring Street – the artist's five-storey, cast-iron home and studio in New York – being opened to the public in 2013. 'Flavin and Rainer's combined vision is a very appropriate stewardship of Donald Judd's legacy,' says Dyer. 'I feel very much the co-designer on everything we do together – the working process is highly collaborative.'

Dyer says he felt a certain weight of pressure designing the Writings book given its sheer volume, but has come to trust the unique working process he has established with Flavin and Rainer. 'They like to try a lot of different things and you have to be comfortable with that,' he says.
The size of the book was Judd's idea. He admired Phaidon's redesigned pocket edition of EH Gombrich's The Story of Art, published in 2006. 'I liked the way it was unpretentious, it was compact, it did what it was supposed to do and you could still carry it around,' he says.

So Dyer was tasked with figuring out the proportions for the book so that the finished product could be a similarly small size and from there they established the brick-like form. 'Everything else – the interior grid and the margins – was derived from the book's proportion,' says Dyer. 'It looks like a simple job on the surface but required a friend in Switzerland coming up with a custom piece of code to enable me to adjust the spacing in the font [Bembo]. We had to do quite a lot of surgery for its many anomalies.'

When Dyer and Judd first discussed the project they talked about setting the book in Helvetica, which is used on most of the Judd Foundation's materials. 'Flavin immediately felt that setting a 1,000 page book that is virtually all text in Helvetica is a cruel and unusual form of punishment for the reader,' says Dyer. 'It also felt very aestheticised, not at all considered from a reader's perspective.'
'We wanted it to be a pleasure to read,' he adds. 'We didn't want the book to be self-conscious and a knowing design object.'

The simple and elegant product pushes design innovations to make it satisfying to the reader. A special binding technique was developed (for Dyer it is 'one of the most important things about the book') allowing the book to be opened and laid completely flat without the spine breaking or creasing. Once shut it returns to its perfect form. 'That is my one big pride point,' says Dyer. 'It took a lot of prototyping to figure that out.'
INFORMATION
Donald Judd Writings, published by Judd Foundation and David Zwirner Books; edited by Flavin Judd and Caitlin Murray. For more information, visit the Art Book website (opens in new tab)