Doggystyle: Daniel Gebhart de Koekkoek's 2022 calendar is barking mad
Dogs driving cars, hoovering, taking work calls and working out. You're not hallucinating, it's artist Daniel Gebhart de Koekkoek's latest creature-themed calendar, Doggystyle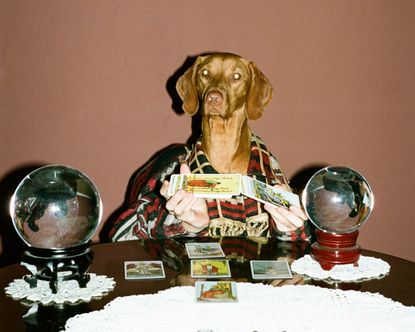 (Image credit: Daniel Gebhart de Koekkoek)
It's the most wonderful time of the year. By that, we mean it's time to see what theme Daniel Gebhart de Koekkoek has unleashed for his annual creature-themed calendar.
Previous years have seen flying cats, domesticated alpacas, and pin-up guinea pigs. For 2022, the Viennese artist has brought us Doggystyle.
To clear up any title-related confusion, we can confirm that the subject of Gebhart de Koekkoek's 2022 calendar is dogs. More accurately, it's a barking mad, laugh-a-month compendium of dogs engaged in distinctly human activities.
Filled with 12 doses of charm, wit and intrigue, each month brings a new microcosm of reality theatre, ranging from the banal to the bizarre. A dog is taking a work call, another is working out, and one is hiding from radiation waves in a foil-lined room.
Each protagonist has their own life story: Bertha, who 'microdoses her soup before going to Berghain'; Ragna, the 'most friendly and lazy dog on Wall Street'; and Bowser, whose 'addictions' include cheese, church bells and well-ironed lingerie.
Needless to say, we had a lot of questions. Fortunately, Gebhart de Koekkoek was available to offer some insight…
Wallpaper*: How did your very first calendar, Jumping Cats, come about, and how was it received?
Daniel Gebhart de Koekkoek: In 2017, I was asked by art book publishing house Verlag für moderne Kunst to make a calendar with some of my work. I was kind of confused by their request. Back then I made mostly documentary art projects and serious work. But out of the blue, I proposed to make a cat calendar.
They were curious to see how I would approach the idea of shooting a cat calendar and I surprised them with Jumping Cats. It was a massive success and people still recognise me for that project. It was a real game-changer for my photography. It was so much fun that I decided to keep going and do a new calendar whenever I had time and a good idea.
W*: How do you usually generate ideas for the project?
DGdK: It's a back and forth throughout the year. I have ideas and tell them to my friends to see their reactions. Mostly they give me confused faces and make me unsure about my ideas. Also, it's usually super busy during the year with assignments and other projects, so the ideas come and go. But in October/November – kind of last-minute – I usually come up with something. I no longer ask my friends for their opinion. I just do it. That's how Doggystyle came alive. I asked some of the best creatives in styling and set design to work with me and shoot during one month of production.
W*: Cats, alpacas, guinea pigs and dogs: these creatures have minds of their own. What are some of the joys, and challenges, of photographing animals?
DGdK: That's what I love about them. They have their own minds and don't care about anything. The full communication is non-verbal and I have to focus and take a lot of care for the animal. I really enjoy this process and creative exchange with them. I never convince them, and if they don't want to shoot, we immediately stop it and take some time to play with them and go to our next animal model.
W*: Doggystyle is different from your previous projects. Each animal is not only engaged in 'human' activities, but blended with human features. What prompted the change in direction?
DGdK: I'm totally open to changing my projects. I'm shooting so many assignments throughout the year, so I enjoy being completely open and free with my calendar project. Whatever works and makes fun I'll shoot. Maybe I'll change direction a bit more for next year.
W*: Each protagonist has their own story, from microdosing Bertha to Ragna from Wall Street. Do the stories come before or after the photographs?
DGdK: We did an interview before each shoot and decided to go with their interests.
INFORMATION
Doggystyle calendar 2022, €20 each. doublekoek.com
Harriet Lloyd-Smith is the Arts Editor of Wallpaper*, responsible for the art pages across digital and print, including profiles, exhibition reviews, and contemporary art collaborations. She started at Wallpaper* in 2017 and has written for leading contemporary art publications, auction houses and arts charities, and lectured on review writing and art journalism. When she's not writing about art, she's making her own.
With contributions from