David Lynch explores decaying factories in a new photography exhibition in London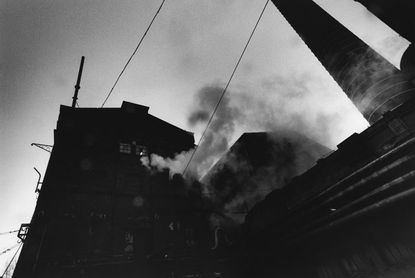 (Image credit: TBC)
Given a choice between visiting Disneyland and an abandoned factory, film director and former Wallpaper* guest editor David Lynch picks the latter. Take one look at his series The Factory Photographs, and it's not hard to grasp why. Be they sites of dereliction or hothouses of industry, the various buildings captured make perfect movie material.

'They are like cathedrals,' says Lynch, of the factories. He talks of decay as a 'fantastic thing', before referring to rusting machinery and nature's slow requisition of abandoned spaces as something of 'great beauty' - though his images are anything but full of greenery.

Detached pipes and fractured brickwork litter the focus of Lynch's lens. 'There are shapes and textures in the factory that are so painterly,' says the director, 'It's amazing.' Each room brings more components and abstractions and with them, shadows that add the perfect darkness to black and white prints.

Lynch's obsession initially began soon after he filmed The Elephant Man in 1980. 'I always heard that the north of England had the greatest factories,' explains Lynch. 'That it was fire and smoke, and just pure beauty.' And so, along with cinematographer Freddie Francis, he planned a trip to visit Britain's industrial heritage - only to discover for the most part it had been torn down.

Now Lynch's collection of photographs - currently on display at The Photographers' Gallery in London - take the viewer to Berlin, Poland, New York, New Jersey and England, among other industrial locations. This, however, is far from being simply a documentary project.

Lynch pays little notice to context. It's the small details to be found in among the ruins that he revels in. And - as if to say he has little time for nostalgia - a series of working factories, complete with white billowing clouds escaping smokestacks, are also photographed.

Station, a track Lynch has chosen to soundtrack the exhibition, (from his album 'The Air is on Fire'), ties these two strands together. Each mechanical sample slowly clunks across an electronic brawl, bringing to life the past while haunting the present.
ADDRESS
The Photographers' Gallery
16-18 Ramillies St
London W1F 7LW
Receive our daily digest of inspiration, escapism and design stories from around the world direct to your inbox