Guest editor David Lynch at Comme des Garçons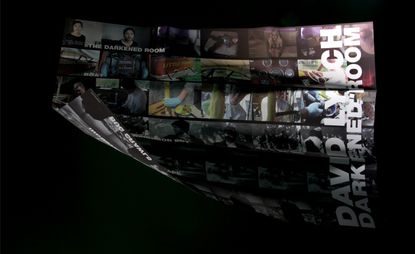 (Image credit: press)
The chain-smoking, quiff-sporting, transcendental-meditating Hollywood maverick, David Lynch, is one of the true titans of 20th century cinema. For his stint as Wallpaper* guest editor (October, W*139), however, he has swapped the big screen for the pages of the magazine, taking us to a higher plane of consciousness through a series of words and symbols. Meanwhile, Lynch's extraordinary oeuvre is also be hailed in an exhibition at Comme des Garçons' Six gallery in Osaka. Here the director has paired 12 of his short films with a series of his paintings - 'artist' being another string to his already enviable bow.
In fact, the Montana-born director picked up a paintbrush before he began making films and still believes that both forms of expression are integral to his work. This sentiment is echoed by Comme des Garçons founder Rei Kawakubo (a former W* guest editor herself, back in October 2008), who has designed the 'Darkened Room' exhibition, integrating a temporary theatre for the films with exhibition space for the paintings, to sweep away 'preconceived genre divisions' between the different art-forms.
Seven of the films on show comprise 'Dynamic: 01 The Best of David Lynch.com' - short works from the members-only section of his website, notably the titular Darkened Room, an eight-minute piece that first appeared on his website in 2002 and which - given its preoccupation with bananas - pulls the viewer into a typically surreal Lynchian universe.
The exhibition also offers visitors a chance to see some of the filmmaker's earliest experimental works, created during his student years, including his first short film 'Six Men Getting Sick' (1967) and 'The Alphabet' (1968).
Forty-four years on, despite being a passionate advocate of the teachings of Maharishi Mahesh Yogi and a firm believer in the quest for 'unity' through transcendental meditation (see our October issue), Lynch's psychological investigations on screen and canvas continue to challenge, unsettle and delight in equal measure.
Even fans of Lynch's dark and nightmarish cinematic work may be shocked by the rawness of some of his recent canvases. 'When it comes to painting,' he once wrote, 'it's the darker things I find really beautiful. All my paintings are organic, violent comedies.'
On show in Osaka until 9th October, Darkened Room will then transfer to Comme des Garçons' second Six gallery (from 21st October) at its epic new flagship store in Seoul.
ADDRESS
Six
Shinsaibashi Fuji Building, 2F 3-12-22
Minami-Senba Chuo-ku Osaka
VIEW GOOGLE MAPS (opens in new tab)