Mathematics exhibition at Fondation Cartier, Paris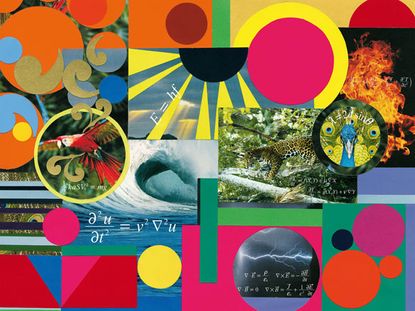 (Image credit: Beatriz Milhazes)
Mathematicians have a tendency to wax lyrical about the 'beauty' and 'elegance' of their discipline. For the most part, this is a tricky concept for the layman to grasp. The enigmatic glamour of prime numbers, for example, is beyond the ken of most of us. But Mathematics: A Beautiful Elsewhere - a new exhibition at the Fondation Cartier pour l'art contemporain (opens in new tab) - aims to translate the mysterious allure of maths to a wider audience, with a little help from artists like David Lynch, Patti Smith (opens in new tab) and Takeshi Kitano (opens in new tab).
The exhibition, developed in association with the Institut des Hautes Études Scientifiques (opens in new tab) (IHÉS), takes visitors on a journey through mathematical thought, guided by six of its most prominent figures: Sir Michael Atiyah (opens in new tab), Alain Connes (opens in new tab), Nicole El Karoui (opens in new tab), Misha Gromov, Cédric Villani (opens in new tab) and Don Zagier (opens in new tab) - world authorities in fields such as number theory, algebraic geometry, differential geometry and probability.
These eminent eggheads have been invited to come up with new ways of 'seeing, hearing, doing, thinking and interpreting mathematics'. But while there's no doubting the superiority of their grey matter, the assumption is that they might need a hand when it comes to making themselves understood to the average maths dunce.
To help them communicate their brain-meltingly complex ideas, Fondation Cartier has teamed these experts up with eight artists - Jean-Michel Alberola (opens in new tab), Raymond Depardon (opens in new tab) and Claudine Nougaret, Takeshi Kitano, David Lynch, Beatriz Milhazes (opens in new tab), Patti Smith (opens in new tab) and Hiroshi Sugimoto (opens in new tab) - with the goal of translating aspects of their subject into tangible experiences in a range of media.
David Lynch, for example, has created a structure in the shape of a zero to accommodate Misha Gromov's Library of Mysteries, which provides a retrospective of the major events in the history of mathematics via an audiovisual installation.
Lynch also contributed to 'Ergo-Robots/Flowers Fields: Artificial Curiosity and Language', an interactive installation that sees a 'tribe' of robotic figures emerging from an egg and then exploring their environment, learning new skills and communicating with their human visitors. The robots' heads, which Lynch designed, have a distinct touch of Eraserhead about them.
Arguably the most germane of all the exhibition's installations, however, is Hiroshi Sugimoto's graceful sculpture, a hyperbolic form entitled 'Surface of revolution with constant negative curvature' - which poses the thorny question underpinning this entire project: how can mathematical abstraction be represented visually?
ADDRESS
Fondation Cartier pour l'art contemporain
261, boulevard Raspail
75014 Paris
VIEW GOOGLE MAPS (opens in new tab)