Life on the road with David Bowie, from Siberia to New Mexico and beyond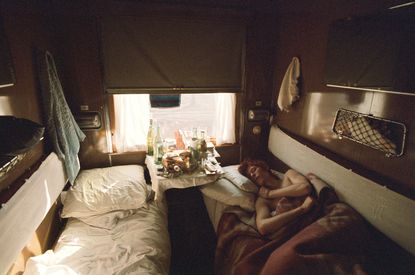 (Image credit: Geoff MacCormack.)
They had been friends since meeting as eight-year-olds at Burnt Ash Primary School in London's Bromley, but it wasn't until January 1973 that Geoff MacCormack received a phone call from David Bowie asking him to join his band, The Spiders from Mars. MacCormack – who was selling advertising space for a London construction newspaper at the time – said yes, and played his first concert as The Spiders' backing vocalist and percussionist at Radio City Music Hall in front of an audience that included Salvador Dalí.

Within weeks, MacCormack found himself swept up in Hurricane Bowie, sailing first class by sea (Bowie was notoriously flight-phobic) to New York, Los Angeles, San Francisco, Hawaii, Canada, and Japan. From there, they made their way to Siberia through Russia to Moscow, on the Trans-Siberian Express, and later voyaged to Poland, East and West Germany, Paris, Rome, among other pit stops along the way. Three years, six albums, five tours, one film and 'the freakiest show in town' later, MacCormack had captured one of the most personal photographic essays ever produced of the enigmatic musician.
In one unguarded moment, Bowie is cocooned in bed 'sleeping off a long night of boozing somewhere in Siberia'. MacCormack elaborates on the shot: 'We drank cheap Riesling and beer (Peeva) with a bunch of soldiers we'd met the night before. They were friendly and inquisitive as to what life was like in the West. We asked them what they did in the army: they said they were in the construction unit. You can just make out the bleak Siberian landscape through the window.'

MacCormack often captured Bowie completely unaware. 'David was reading a review, and I sneaked this shot with a zoom lens which I already had on the Nikon so as not to disturb the quiet moment,' explains MacCormack of a photograph of Bowie in Ziggy make-up at the Hammersmith Odeon, London, in 1973. 'To this day, I find it remarkable how serene he is only moments before showtime.'

Much in the spirit of its globe-trotting subject, MacCormack's travelogue – originally published in May 2007 as a limited-edition book – has been touring various galleries this year, most recently going on show at Lucy Bell Gallery in Hastings, East Sussex. Still, these candid frames are magnetic as ever, a testament to Bowie's unwavering star power, but perhaps more so, to a warm and genuine friendship.
INFORMATION
'Geoff MacCormack Collection: David Bowie' is on view until 13 September. For more information, visit the Lucy Bell Gallery website (opens in new tab) and Geoff MacCormack's website (opens in new tab)
ADDRESS
Lucy Bell Gallery
46 Norman Road
Saint Leonards-on-Sea TN38 0EJ