Daniel Lie ignites the senses at Jupiter Artland
There's something in the air as the Brazilian-Indonesian artist gears up with a new commission for the Edinburgh sculpture park and gallery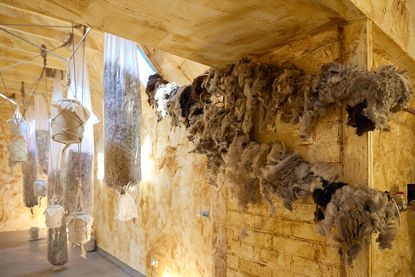 (Image credit: John McKenzie.)
In 1999, Robert and Nicky Wilson began drafting a star-studded shopping list and populating their 100-acre plot on Edinburgh's fringes with contemporary art, turning fields, a farm and a Jacobean manor into a sculptural utopia. Almost 20 years later, Jupiter Artland still feels like an anomaly in the art landscape. For the Wilsons, personal aspiration and philanthropic ideals have merged in a palpable lust to bring art to the masses. Jupiter Artland offers rural escapism, soul cleansing, and in the case of Brazilian-Indonesian artist Daniel Lie, an education on how to use the landscape as a canvas.

'Sometimes I feel like I'm an employee of the work', Lie, who uses they/them pronouns, admits ahead of their debut solo exhibition in Europe and the first in a new season for Jupiter Artland. Lie's commission, 'The Negative Years', is not on the land: it is the land. The concept has been in the works for four years, two of which were spent collaborating with scientists, archaeologists, mycologists and the Jupiter Artland Foundation. The work is weighed down with environmental uncertainty, the future of energy production, the power of fungi, post-humanism, and colonisation in every sense of the word.

Lie is not an artist you can peg to any conventional discipline. There's barely a whiff of personal narrative here. Instead, they enjoy the lack of power over these autonomous materials, commemorating the long and deep relationship between human and non-human species. Organisms are the artist's collaborators, subjects, and the protagonists of the work.
'This is a non-verbal exhibition. The fungi react to sound,' Lie says, as a politely veiled instruction to keep noise to a minimum as we enter each installation. What first strikes you isn't necessarily the shrewd and resourceful use of materials, it isn't even the fact that you can barely distinguish between what's Lie and what's just the lie of the land, it's the smell. The smell you get when flowers have festered in the vase too long or the aroma you imagine to be back of house at Kew Gardens. It's an unexpected, gritty, earthy odour that isn't necessarily unpleasant, it just lingers.

In the Steadings courtyard, we're greeted with a pile of compost, which could just as well be a staple of agricultural life, but is in fact a bio-digestion heap cleverly generating heat for the studios. Inside, Quing takes a while for you to get your head around. The walls are liberally lashed with turmeric paint and linseed gel. Large terracotta pots containing Lie's spawning fungi 'queendom' are bound and suspended on ropes like ritualistic urns. Plastic hay-filled sacks sag and sweat with condensation, suggesting life, death, rot or everything at once.

In the upper gallery, To Mourn the Living takes the mood from intriguing to somber. The walls are a muted black charcoal and bunches of decaying flowers are laid in each corner, seemingly in memoriam. The mushrooms make a return, this time sprouting from a large jute sack. 'All of these living beings are just like us humans, bound by time,' says Lie, who urges us to have a 'conversation with the art', but it's difficult to know where to start. 'Each person navigates in their own way and I respect this individual experience. Art can be very democratic and cross various different languages, social classes, race, gender. I think that's the most beautiful power.'
On approach to the ballroom garden, you walk under a knotted rope linking two wooden stakes. If you weren't scouting for Lie's work, they could well be telegraph poles, or an innocuous gateway. Look closer, and Unable to Destroy takes a sinister turn; bundles of tinder encircle each base like funeral pyres and evoke the region's violent history, specifically the persecution of witches burnt at the stake.

Inside the stately ballroom, the dimmed light augments other senses and makes for eerie viewing. A three-metre hoop comprised of 10,000 flowers plucked from the land and wool sheared from Jupiter's resident sheep is suspended from the rafters. It droops down like a pendulous wreath with an intricacy on par with the ornate ceiling plasterwork. The Others' Privacy is accompanied by an ambiguous soundtrack that could either be someone chewing or sped up audio footage of growing organisms. The smell of decay and decomposition here is the most pungent yet, and the exhibition has barely opened.

By mid-July, Lie's show will be unrecognisable. The flowers will have withered and shriveled, the fungi may have formed an army and the smell might have evolved from an inoffensive whiff to a full-blown pong. Unlike its Jupiter Artland neighbours – the Gormleys, Kapoors, and Parkers – this living, breathing art doesn't exactly make for a collectable commodity, but making art with legitimate purpose is a marketable concept. Lie's scrutiny of micro entities to wrestle macro issues has transformed Jupiter Artland into a biological pilgrimage.
Information
'The Negative Years' is on view until 14 July. For more information, visit the Jupiter Artland website (opens in new tab)
Address
Jupiter Artland
Bonnington House Steadings
Wilkieston
Edinburgh EH27 8BY
Harriet Lloyd-Smith is the Arts Editor of Wallpaper*, responsible for the art pages across digital and print, including profiles, exhibition reviews, and contemporary art collaborations. She started at Wallpaper* in 2017 and has written for leading contemporary art publications, auction houses and arts charities, and lectured on review writing and art journalism. When she's not writing about art, she's making her own.