Signature stripes: Daniel Buren heads a new group show at Hannah Hoffman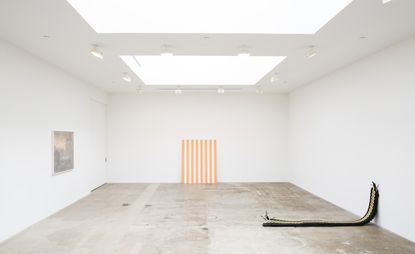 (Image credit: Michael Underwood)
Six artists, six works. A minimal group show at Hannah Hoffman gallery – titled simply(ish), 'Daniel Buren, Sam Lewitt, Wilfredo Prieto, Charles Ray, Pamela Rosenkranz, Joe Zorrilla' – is a deliberately pared down presentation by these artists, who, though born between 1938 and 1982, forge a natural visual connection in the space. It's typical of Hoffman's style of exhibition making; at her space in Hollywood, the fewer preconceptions the viewer comes with, the better. A tough call with such huge names on show.

Beyond a coherent, visual connection that is allowed to breathe quite naturally in the gallery's arrangement, these artists share a conceptual interest in expressing something of the architecture that surrounds and shapes us – be it biological, historical, social, material – that influences our view of the art. The works do this by disrupting the space they inhabit rather than representing it. In Charles Ray's photograph, Untitled (1973) a figure shot from below dangles precariously, bound to a tree, in dialogue with Sam Lewitt's similarly strung wall sculpture. Ripples disband out in Prieto's Crocodile Tears (2011) and Joe Zorilla, who has previously been featured at the gallery, presents a sculpture, Neither/nor, using diametric materials that at once slump down the wall, ready to trip you up, and extend upwards in a sensuous invitation to climb.

Pamela Rosenkranz, who represents Switzerland at the current iteration of the Venice Biennale, here shows a work from a new series – a digital reproduction of Vittore Carpaccio's The Miracle of the Cross at the Ponte di Rialto (c. 1496). Rosenkranz uses a mixture of acrylic medium and the skin coloured pigment used in Our Product (the liquid she created for her Swiss Pavilion project), on an enlarged watermarked print mounted on paper, then plexiglass.

At the heart of it all sits a work by Buren from 1974 – almost a decade after the artist began to create his now instantly recognisable in-situ stripes. The piece at Hoffman illustrates the history of his trademark motif, but also acts as an anchor to the divergent practices of the others; a kind of literal and conceptual jumping board for interrogating the space. Buren guides the viewer upwards and outwards to contemplate how the outside informs perception and viewing. As ever, Buren's mesmerising work paradoxically becomes a core attraction of the space it inhabits.
INFORMATION
'Daniel Buren, Sam Lewitt, Wilfredo Prieto, Charles Ray, Pamela Rosenkranz, Joe Zorrilla' is on view until 16 January 2016. For more information, visit Hannah Hoffman Gallery's website (opens in new tab)
Photography: Michael Underwood. Courtesy the artists and Hannah Hoffman Gallery
ADDRESS
Hannah Hoffman Gallery
1010 Highland Avenue
Los Angeles, CA 90038
VIEW GOOGLE MAPS (opens in new tab)
Charlotte Jansen is a journalist and the author of two books on photography, Girl on Girl (2017) and Photography Now (2021). She is commissioning editor at Elephant magazine and has written on contemporary art and culture for The Guardian, the Financial Times, ELLE, the British Journal of Photography, Frieze and Artsy. Jansen is also presenter of Dior Talks podcast series, The Female Gaze.