Prism break: a new glass exhibition celebrates the Bauhaus colour wheel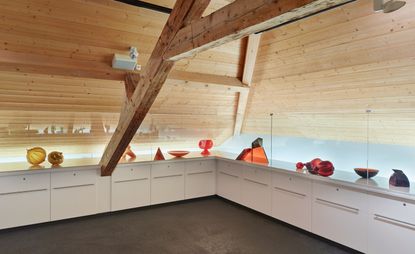 (Image credit: press)
Swiss expressionist painter, designer and theorist Johannes Itten (1888–1967) once said, 'He who wishes to become a master of colour must see, feel, and experience each individual colour in its endless combinations with all other colours.' He was among the first to identify contrasts and develop harmonious colour strategies. In 1919, Itten joined the Bauhaus faculty (then based in Weimar) at the behest of Walter Gropius, where he developed his pioneering 'colour sphere' – now the basis for many other schematics.

So to Lausanne, where a recently launched exhibition at the Museum of Contemporary Design and Applied Arts (MUDAC) pays tribute to Itten's colour wheel with a vibrant crop of glass works by the likes of Gaetano Pesce, Tobias Rehberger, Salvador Dalí and more. Entitled 'Chromatic', the show explores the realm of colour from three different viewpoints: the scientific, the sensory and the playful.

The focus on glass is a deliberate nod to its prismatic qualities, and the show demonstrates the material's flexibility with an array of pieces that span the startling to the simply beautiful. MUDAC's conservation department has sourced the works from different realms of the glass world, honing in on sculptural one-off pieces, contemporary artworks and finally the design field, encompassing lighting fixtures, mirrors and vases.

Highlights in the show include Basel-based Matteo Gonet, Valérie Jacquemet and Jodoc Elmiger's Giant Marble creations – now part of MUDAC's permanent collection – and Maurice Ruche's architectural cube. The works have been arranged rather pleasingly by hue – another nod to Itten's colour wheel.

Itten's time at Bauhaus was brief and, dare we say it, colourful. He insisted on crimson robes, shaved heads and colonic irrigation, and his nonconformist demeanour found itself increasingly at odds with Gropius' conservative rationalism. He was eventually fired in 1923. Nonetheless, Itten paved the way for one of Bauhaus' most prominent students and eventual teacher: Josef Albers. Itten may have caused discord at the German school, but there is nothing but harmony to found in 'Chromatic', a worthwhile tribute to the father of Bauhaus colour theory.
INFORMATION
'Chromatic' is on view until 24 September 2017. For more information, visit the MUDAC website (opens in new tab)
ADDRESS
MUDAC
Place de la Cathédrale 6
1005 Lausanne