Chiharu Shiota weaves past, present and future at an 18th-century Yorkshire chapel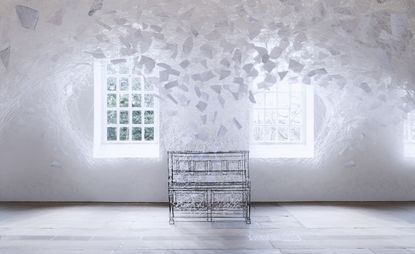 (Image credit: © The artist and VG Bild-Kunst, Bonn. Courtesy of Yorkshire Sculpture Park. Photography: Jonty Wilde)
When she was nine, Japanese artist Chiharu Shiota saw the burnt-out, soundless remains of her neighbour's piano after a house fire. The image stayed with her. Now, it has inspired a haunting new work, rendered in her preferred medium, webs of twisted thread.

'Beyond Time' – an immersive installation spun from the flagstones to the rafters in the deconsecrated, 18th-century chapel at Yorkshire Sculpture Park – is divergent from Shiota's previous works, in that it uses pure, white thread instead of the gothic reds and blacks she earlier favoured. Traditionally, white represents mourning in Japan, but for Shioto, it has a connection to 'eternity'; her belief that entering into death is just another phase of being.

Exterior of the Chapel at Yorkshire Sculpture Park. © The artist and VG Bild-Kunst, Bonn, 2018. Courtesy of Yorkshire Sculpture Park. Photography: © Jonty Wilde
Emitting from a cast iron piano in the centre of the space, like a visual manifestation of sound, a complexity of white threads entangle hundreds of sheets of paper. From afar, it's a hurricane in a printworks. Look closely and you'll see that each sheet is uniquely printed with writing and score.
We're told some papers come from the booklet of Ezra Taylor's memorial service which happened in the venue in the 1960s. Another set contains the chapel's bell ringing instructions, and a third contains the dedication of the chapel organ (the wood from which has coincidentally been used by other artists with works at YSP).
It was the chapel's absence of a musical instrument that first inspired Shiota to create the installation, and the silence of the space remains tangible. There's rigidity in the unplayable black steel keys of the piano; a quietude from the visitors contemplatively milling, stillness in the papers that are snapshot-suspended, mid-flight.
This silence adds to the performative quality of the installation. Trained by Marina Abramović in Berlin, Shiota began her career as a performance artist, inspirations from which linger in the webs – a sensory explosion.
A scattering of additional works are concealed from first view in the matroneum and vestibule – bronze cast hands lovingly entwined together, portraits of dancing figures embellished with thread arabesques. Hidden like confessions to Shiota's wider practice, they're intriguing, but not wholly in sync with the charged webs that criss-cross through the chapel. Instead, they contextualise Shiota's work, grounding the installation in her interest in memory, relationships, loss.
Embracing all who enter, 'Beyond Time' references the chapel's rich history and years of human presence, dating back to 1744, alluding to the bells that were rung, the songs that were sung, and the lives that revolved around it. It also comments on the chapel's deconsecration, filling the space floor-to-roof in agnostic 'art', there for its beauty and symbolism alone. Yet, like after a religious service, we leave peaceful, contemplative, refreshed.
INFORMATION
'Chiharu Shioto: Beyond Time' is on view until 2 September. For more information, visit the Yorkshire Sculpture Park website (opens in new tab)
ADDRESS
Yorkshire Sculpture Park
West Bretton
Wakefield WF4 4LG
Elly Parsons is the Digital Editor of Wallpaper*, where she oversees Wallpaper.com and its social platforms. She has been with the brand since 2015 in various roles, spending time as digital writer – specialising in art, technology and contemporary culture – and as deputy digital editor. She was shortlisted for a PPA Award in 2017, has written extensively for many publications, and has contributed to three books. She is a guest lecturer in digital journalism at Goldsmiths University, London, where she also holds a masters degree in creative writing. Now, her main areas of expertise include content strategy, audience engagement, and social media.