Tied up: Chiharu Shiota's 'Uncertain Journey' entangles Blain|Southern gallery, Berlin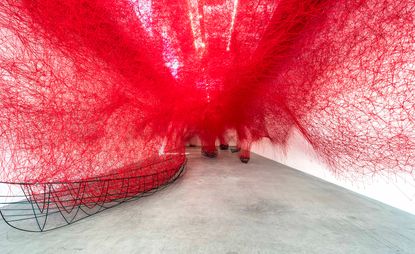 (Image credit: Chiharu Shiota)
Artist Chiharu Shiota has transformed Blain|Southern's Berlin gallery, using 750,000 metres of thread from 5,000 balls of blood-red yarn. The 10m high installation, titled Uncertain Journey, fills the entire space and can be viewed from the inside, or looking down from a mezzanine above. 'As people come in at first they look around and then they see an infinite line. Just as the universe is infinite, there appears to be no end to this line of yarn,' Shiota explains. It is her first exhibition in her adopted hometown in eight years, and coincides with Berlin Art Week.

Known for her immersive, site-specific installations, Shiota's Uncertain Journey also incorporates metal sculptures, made to look like the skeletons of the hulls of boats, as if caught in a giant net. Boats are a recurrent motif in the artist's work, also appearing in her installation at the Venice Biennale last year, where she represented Japan.

'Boats are always travelling, always carrying people, so in a sense we are always in a boat – ready to go but we don't know exactly where to go. This is the concept that I wanted to express with the boat,' Shiota says. 'Our life is a trip without a destination, we don't know where we're going, and it's easy to say the end is death, but that's too easy for me. I wanted to emphasise this feeling of travelling with nowhere to go,' she adds.

The metaphor resonates unavoidably with images of the current migration crisis in Europe. At the same time, the huge cocoon-like structure is comforting and feels protective. The thousands of threads resemble a network of nodes – 'like a memory system inside our brain,' as Shiota sees it – that speaks of the infinite connectivity between humans, all part of the same ecosystem.
INFORMATION
Chiharu Shiota is on view from 17 September – 12 November. For more information, visit the Blain|Southern website
ADDRESS
Potsdamer Straße 77-87, 10785 Berlin, Germany
Charlotte Jansen is a journalist and the author of two books on photography, Girl on Girl (2017) and Photography Now (2021). She is commissioning editor at Elephant magazine and has written on contemporary art and culture for The Guardian, the Financial Times, ELLE, the British Journal of Photography, Frieze and Artsy. Jansen is also presenter of Dior Talks podcast series, The Female Gaze.