Sculpture's rising star Camille Blatrix on process, pathos and YouTube learning
Ahead of his solo show at Kunsthalle Basel, the Paris-based artist talks us through his mysterious 'objects'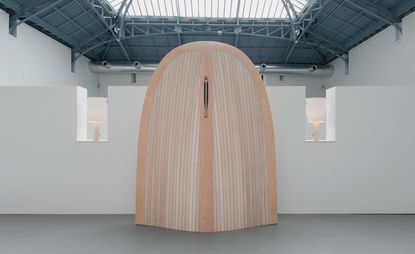 (Image credit: Isabelle Arthuis / Fondation d'entreprise Hermès)
Camille Blatrix's studio in the 14th arrondissement of Paris is cluttered with carpentry tools and random bits of decoration: dollar signs graffitied on the wall; 
a clay minotaur; ten years' worth of empty beer bottles; and a painting by his father, who used to be an artist, too. The 35 sq m studio, which Blatrix called home until 2017 (when he met his wife), is in a semi-dilapidated building of artists' ateliers rented out by the mayor's office. He keeps it because it is cheap and charming, and also for nostalgic reasons. When he was eight, his parents divorced, and he lived here part-time with his brother and father, who originally used the studio. The three of them slept on the mezzanine and ate meals from an oil stove. 'It was super cool,' Blatrix, now 35, recalls. 'I have only good memories.'


His career choice was self-evident; art runs in his blood. At about the same time his dad quit painting to be a boatbuilder in Brittany, his mother became
a full-time ceramicist. Blatrix graduated from the École des Beaux-Arts in Paris in 2011 and rapidly found the success that had always eluded his father. In 2014, he was awarded the Prix Fondation d'Entreprise Ricard. His works have made their way into the collections of the Musée National d'Art Moderne de la Ville de Paris, the Pinault Foundation and the Aïshti Foundation in Beirut. He earned acclaim for an installation at the most recent Frieze London and is presenting a solo show at Kunsthalle Basel this winter.
When Blatrix has an exhibition to prepare, a demand increasing in frequency, he rents a large space in the suburbs where he assembles his installations. The Paris studio is where he creates smaller, handmade pieces, using saws and a lathe, rasps and files, planks of wood and resin. He says that art school taught him no technical skills – he learned it all on his own. He is particularly proud of his wood marquetry, which he picked up on YouTube. Blatrix's work is difficult to define. His installations combine industrially manufactured items with his own meticulously crafted pieces to create mysterious, often futuristic 'objects', which he somehow imbues with emotion. Though useless, they appear to be important, vaguely resembling quotidian utilities such as cash machines or mailboxes. 


'When I saw Camille's work for the first time at the Galerie Balice Hertling in Paris, I didn't really understand it, which is always a good sign for me,' says curator Guillaume Désanges. 'There is an ambiguity between the artisanal and industrial nature of his objects that makes them cold yet sensual.' Désanges invited Blatrix to create a solo show for the Fondation d'entreprise Hermès' La Verrière in Brussels last autumn. The artist responded with an installation that included a tale of a seed evolving into a flower, a dental retainer and a wooden sculpture that looked like a boat hull, crafted by his father. (One of Blatrix's earlier exhibitions included work by both his parents.)



Another independent curator, Attilia Fattori Franchini, had a similar reaction when she discovered Blatrix's work. 'I couldn't figure it out,' she says. 'He left me thinking of something I knew and recognised, but I couldn't understand its formalistic language.' Intrigued, she commissioned him to create a piece for the 2019 BMW Open Work (opens in new tab) by Frieze, an annual initiative inviting artists to use the carmaker's technology. Blatrix produced a slick white object like a car bonnet, hard on the outside and protective underneath, which seemed to be communicating with an automobile. He called the installation Sirens, a reference to the mythical creatures that bewitched Ulysses with their song. 'I'm very drawn to the objects that surround us,' he says. 'Cars, phones, all those technological things that are both attractive and terrifying. It's the concept of desire. '

Blatrix has an intense, slightly hyperactive energy. He talks a lot and thinks even more. His work often mixes personal experience with current events, treated with the detached perspective of an artist. 'I like to start with ideas with a certain pathos,' he says, 'and then I make them increasingly abstract until the result is something more twisted and strange.'
Typically, after a period of introspection, Blatrix explains his ideas to an industrial designer friend, who maps them out in 3D. His manufacturing partner – specialists in aluminium or foam, for example – produce some pieces, while he does others by hand. 

He started thinking about the upcoming Basel show last summer, during the Paris heatwaves, when he was putting his baby daughter to bed. He imagined the exhibition in a child's room. He thought about the increasing public debate as to whether the world is coming to an end. He thought about the four seasons, and barriers – those between seasons, and those that we put up to protect our children. He planned a kind of bed as a central element, with layers matching his mental image of a weather station, covered with wood blocks like a child's toy, and topped with marquetry. Four barriers would emulate charging stations, attached to an assortment of objects.

In early November, two-and-a-half months before the show, he was waiting for a cabinetmaker and an upholsterer to deliver the elements of the bed. From that point onwards, he would work full-time crafting objects at his studio, guided by what he calls an 'intuitive, formal creative process'.

 Blatrix says he does his most powerful work under the pressure of a deadline. It is not an easy process;
he admits it is not even very enjoyable. 'Sometimes I think, "Shit, why did I choose sculpture?"' he says. 'It's laborious. I can't just let go and do whatever
I want. And I think this disagreeable relationship with the process takes me in a direction where I make objects that I don't quite understand, and that don't necessarily resemble me. Whereas if I wrote music, it would be love songs, and people would say – "Ah oui, now that is Camille."' Yet look closely and you might nd that under the nely engineered surface, his works are expressions of not just longing, but love.
INFORMATION
'Camille Blatrix', 
17 January – 15 March, Kunsthalle Basel. kunsthallebasel.ch (opens in new tab)
ADDRESS
Kunsthalle Basel
Steinenberg
7 CH-4051 Basel
VIEW GOOGLE MAPS (opens in new tab)