Camille Blatrix on exploring desire and BMW technology
The artist will reveal his BMW Open Work commission at Frieze London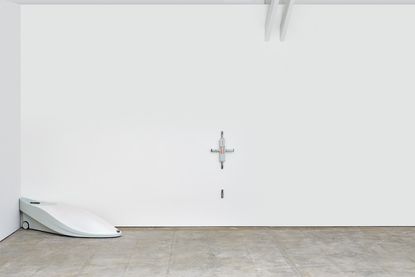 (Image credit: Courtesy of the artist, Andrew Kreps, NY and Balice Hertling, Paris)
Curated by Attilia Fattori Franchini since its first iteration in 2017, the BMW (opens in new tab) Open Work initiative challenges artists to push the limits of their practice, utilising new innovations in technology and design. Paris-based artist Camille Blatrix has been tasked with this year's commission, which will be unveiled at Frieze art fair (3 – 6 October). He teamed up with BMW Individual, the company's specialised division for car customisation, which has allowed him to 'harness unparalleled technical knowledge, skills and facilities in a truly open-ended way'.

We caught up with Blatrix to find out more about the project...

W*: Tell us about your commission for BMW Open Work.
Camille Blatrix: The commission is to me, a good opportunity to confront my artistic practice with an industrial product – in this case, a car. This confrontation excites me to think about the relation between an object of desire (the car, with defined functionality), and one that is more mental, emotional. Working together with BMW Individual, we created an object using car making processes and technology, bringing them towards abstraction. The output of this process is an installation, titled Sirens.

The car and the sculpture will be displayed together, one in front of the other, face to face. The car will light the sculpture and the inner parts of the sculpture will be also lit – they are in a dance of repulsion and seduction. Looking at the sculpture, also titled Siren, you are presented with a super clean surface, like a soft shell, very seductive, inspired by the front of a car but the back side is more organic, more like a cavity with a strange and dangerous object shaking inside. For me the sculpture has two faces: a seductive one and a dangerous one. I drew on the myth of Ulysses and the sirens as a loose narrative, structuring this idea of constant attraction and rejection.
What attracted you to work specifically with BMW's car customisation department?
BMW Individual is the department that makes cars unique and personal, and in my work I'm interested in individual feelings – especially the emotions induced by everyday objects. The contrast between standardised machines and the emotions we associate with them through use is really fascinating, such as driving fast to feel free. I like the idea that choosing the colour of your car can deepen the process of emotional appropriation, even if the core of the machine is exactly the same. This idea of personalising a generic object is interesting to me, like being served a cup at Starbucks with your name handwritten on it.
RELATED STORY
Did you incorporate any new technical processes through this collaboration?
For the first time I used textiles, more specifically Alcantara. It's a material I was previously afraid of, but during my visit I was amazed by BMW's techniques and the way they cover sharp and industrial shapes with leather to make them smooth and comfortable. I thought this contrast between the leather interior and aggressive exterior of the car was perfect for the project and this idea of double-sided sculpture.

Among other things, your work is rooted in manufacturing and production. Where does this interest stem from?
I think it's a very naturalist approach. I live in a big city so every day, when I open my window, I see people at speed trying to interact with weird machines and dealing with highly technological objects. I hope one day that when I open my window I will see trees and people fishing.

What does desire mean to you?
Desire to me is being scared. The first time I saw my wife, I realised I have never been so scared in my life – my whole body was shaking. Talking to her was the most dangerous and vertiginous thing I've ever done. I didn't sleep for a week before our first date. That's desire: attraction and danger. But if you experience danger – which is not easy – you will discover the most beautiful feelings you've ever had. I guess some people can experience this with objects and products, a phone or a car.