Calvin Klein window installation, NYC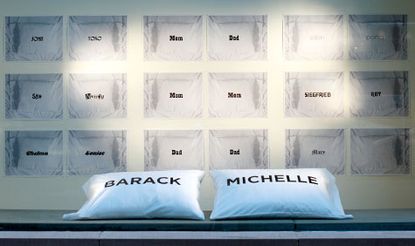 (Image credit: TBC)
The windows of the Calvin Klein Collection store on East 60th Street in New York are showing a little love, devoting pairs of pillows to some of the world's most celebrated couples. Not just an act of whimsy, the installation is a response to a particular work - 'Pillow Talk Bed' - by artist Jonathan Horowitz, which features in his retrospective currently on at MoMA (opens in new tab)'s PS1 space.
See more pillows (opens in new tab)
Horowitz's bed is adorned with a rotating selection of 'Pillow Talk Cases' emblazoned with the names of a famous couple – from Barack and Michelle to Lindsay and Sam, R2-D2 and C-3PO to John and Yoko. The names of each couple are silk-screened on Calvin Klein Home pillowcases in a unique font, appropriate in some way to the pair's character.
In the spirit of coupling up, Calvin Klein (opens in new tab)'s New York flagship has devoted its windows to a display of the pillows too, on show until March 23rd and a limited number of the cases are available to buy from the Calvin Klein Collection store, the PS1 store and the Art Production Fund (opens in new tab) who were the happy couple's matchmaker.
ADDRESS
Calvin Klein flagship
East 60th Street
New York
VIEW GOOGLE MAPS (opens in new tab)