Breaking rules: Mary Heilmann bends the boundaries of what constitutes art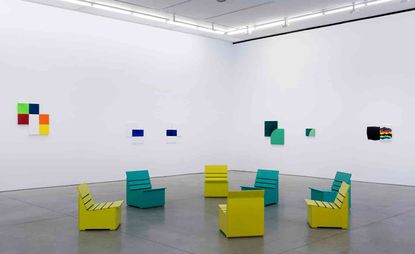 (Image credit: Mary Heilmann and 303 Gallery)
Few artists swing from paintings and works on paper, clear across to sculpture that approaches design and then onto glazed ceramics, but Mary Heilmann remains supreme when it comes to producing such a distinctively diverse oeuvre. The 303 Gallery in Chelsea, New York is now showcasing her latest creative endeavors for their latest exhibition, 'Mary Heilmann: Waves, Roads, Etc.' which features forty-five works.

Vivid colors mark Heilmann's palette. 'As to her paintings with their sharp geometric forms, Mary frequently takes waves as well as roads and reinterprets them visually,' says Christian Alexa, 303 Gallery's director. Yellow lines stretching down black asphalt delineate Heilmann's 'Highway, My Way', but when it comes to the ocean, she often veers away from the requisite blue waves. For example, Heilmann turns to soft pink, stacked geometric forms against a white background for her Rose Wave.

Best known for the chairs that lay strewn like a blaze of vibrant confetti on the Whitney Museum of American Art (opens in new tab) terrace as part of their inaugural exhibition, 303 gallery is also sporting her riffs on the simple, painted plywood Adirondack chair, which the artist sees as sculpture. So arranged in a circular pattern at the gallery are Heilmann's Sunny Chaises in yellow and blue, that they form the perfect perch to take in this exhibition.

There's also a set of ceramic cups, complete with saucers in brilliant blue, turquoise and red, to match. 'As Mary has said a number of times, art has no limits,' adds Alexa.
INFORMATION
'Mary Heilmann Geometrics: Waves, Roads, Etc.' is on view at 303 Gallery until 19 December, website (opens in new tab)
Photography: Courtesy of the artist and 303 Gallery, New York
ADDRESS
303 Gallery
507 West 24th Street
New York
VIEW GOOGLE MAPS (opens in new tab)