Peacocking: branding genius Ivan Chermayeff's alternative oeuvre in NYC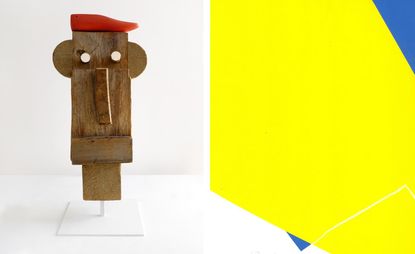 (Image credit: Photography courtesy Pavel Zoubok Gallery)
While internationally acclaimed branding expert and graphic designer Ivan Chermayeff is best known for a slew of corporate commissions – from NBC's crisply feathered peacock, to MoMA and the Armani Exchange – there's also a relatively unknown aspect to his oeuvre. For more than 60 years, Chermayeff has turned out reams of witty assemblages and sculptures, some featuring a lost glove or two, and collages comprised of torn envelopes, bits of newsprint and even the odd Mouton de Rothschild wine label.

Currently exploring Chermayeff's recent rarefied artistry is Chelsea's Pavel Zoubok Gallery, in an exhibition entitled 'Ivan Chermayeff: Collages and Sculptures'.

Collages such as 2015's Untitled – composed of sharp angled shapes in blue, red and yellow – nod to Ellsworth Kelly, while one is anchored by a Boucheron sales receipt.

For 2005's Janus with Red Beret, the designer also turned to reclamation, plucking a ragged hunk of barn wood and topping it with a red painted shoe – an erstaz beret set at a jaunty angle. Another sports a hat resembling blue, cast-iron fish.

'As to the rusted beer cans tossed and ridden over by trucks, and postage stamps, they add a dose of reality to my work,' says Chermayeff, who is now tackling another found object – Toucan feathers.

For those who fail to catch this beguiling show, a full blown survey entitled 'Ivan Chermayeff: Cut and Paste' is pegged to appear in Madrid and Switzerland.
INFORMATION
'Ivan Chermayeff: Collages and Sculptures' is on view until 9 April. For more information, visit Pavel Zoubok Gallery's website (opens in new tab)
Photography courtesy Pavel Zoubok Gallery
ADDRESS
Pavel Zoubok Gallery
531 West 26th Street
New York, NY 10001
VIEW GOOGLE MAPS (opens in new tab)