Borders and boundaries: Michael Joo at Blain|Southern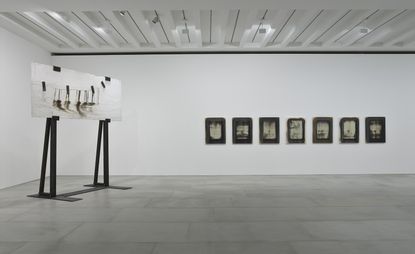 (Image credit: Peter Mallet.)
The works featured in 'Radiohalo' – a new show by the lauded New York-based artist Michael Joo, open now at London's Blain|Southern – are concerned with process and intersection.

The former theme is most heavily related to Joo's embrace of silver nitrate as a volatile, expressive material; the latter to his consistent use of boundaries as a motif, whether physical – from the cracks that form the visual focus of his sculptural work to the lines drawn down the gallery walls – or symbolic, in his transmission of meaning and transference of data to canvas.

Take, for instance, defacto show centrepiece Prologue (Montclair Danby Vein Cut), 2014–2015; a steel-frame-mounted marble slab, marked by a long crack (itself visually held together by metal rivets) and treated with silver nitrate, it further explores Joo's interest in Cameron's Line, a subterranean swathe of marble that runs through the US as a tectonic boundary. The work, the gallery explains, acts a billboard in which a landscape of 'time, compression and process' is reflected in the strata, the refractive nature of the nitrate application creating a dialectic 'both spatial and temporal'.

'The idea behind this work began with the idea of displacement,' explains Joo of the process of extracting marble from the earth in order to create the imposing piece. 'I wanted to see this landscape above and also get the essence of the material below.'

Elsewhere, a plethora of graphite-embedded sculpted crane's legs – collectively entitled DRWN, Carunculatus – have been dragged down the gallery walls, creating a wealth of delicate intersections that are both visually striking while simultaneously affording a kind of agency to the endangered birds, quite outside of human delineations of space.

A series of new 'caloric paintings', meanwhile, picks up the remit of works such as 1992's The Saltiness of Greatness, Joo calculating the calorie output required by a number of activities and transferring this numerical value to canvas, again via his beloved silver nitrate. The results are tactile and atmospheric, but also fascinating in their purpose of mundanely transferring data (and calling into question whether there's any significance in this action).
'Radiohalo' is on view until 9 April. Click above for a short video preview of the exhibition. Pictured: 'Radiohalo', installation view, 2016. Photography: Peter Mallet. Courtesy the artist and Blain|Southern
INFORMATION
'Michael Joo: Radiohalo' is on view until 9 April. For more information, visit Blain|Southern's website
ADDRESS
Blain|Southern
4 Hanover Square
London, W1S 1BP