Elemental artistry: Bill Viola unleashes a new show at Yorkshire Sculpture Park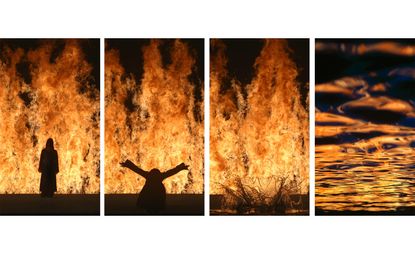 (Image credit: Bill Viola)
Bill Viola (opens in new tab), a pioneer of sound and video art – and in person slight, gentle and of a spiritual bent – is a true artworld heavy weight. Any Viola show is an event. And one as large as his new show at the Yorkshire Sculpture Park is a major event.

This is Viola's largest show in the UK in ten years, taking over the park's wonderful Underground Gallery and, even more thrillingly, its 18th century chapel, first used as a gallery space last year by Ai Weiwei. The Viola show includes ten works, including the premier of a new piece, The Trial.

Viola is not a details man. He deals in the big issues: birth, death and the dreadful spiritual passage from one to the other. He also has a thing for the elemental, particularly fire and water.

The Trial, then, is typical Viola. Twin screens show a young man and woman; still, face forward and naked from the waste up (neither, it must be noted, are unattractive). They are deluged with various liquids from something oily and viscous, through bloody to milky to clear water. Viola calls this 'five stages of awakening through a series of violent transformations'. (Over lunch he revealed that neither 'actor' was told what they were in for during the shoot. Their shock and eventual relief when the deluge ends is real.)

2005's Tristan's Ascension, shown in the chapel, does something similar but in reverse and to thrilling, sometimes suffocating, effect. Tristan (as in Tristan und Isolde – the piece is part of a four-hour video originally created to accompany Wagner's Arthurian opera), lies prone on a slab until a reverse drip turns into a reverse deluge, slowly pulling him up the long, tall screen and away to who knows where.

Amidst all the high-definition, high-concept videos, the earliest work in the show, 1995's The Veiling, seems particularly lo-fi and more effective for it. Nine sheets of cloth are hung, evenly spaced along the large gallery space. Two projectors at either end of the room beam in nocturnal images of a man, in one case, and a woman in the other. As Viola has it: 'Recorded independently, the images of the man and the woman never coexist in the same video frame. It is only the light from their images that intermingles in the fabric of the hanging veils.'

Perhaps the most affecting piece here though – and Viola is not afraid of violent emotional effect, of engaging the heart and mind – is 2007's The Return, in which a high-definition, full-colour, middle-aged woman passes through a screen of water to become grainy and black and white. It is a passage full of pain and wonder and powerfully moving. (The Return is the second work you see in the Underground Gallery and when the trick is repeated later on, in The Innocents, its power is diminished, coming off more like a Doctor Who special effect – if one of its better, more resonant ones.)

Back in London meanwhile, Blain|Southern (opens in new tab) and The Vinyl Factory Space (opens in new tab) are going much further back into the Viola archive. Blain|Southern is showing Moving Stillness (Mt.Rainier), a mixed media work from 1979 using actual water, while The Vinyl Factory has two sound works from the same period, made in an empty swimming pool.

Wallpaper* met Viola to discuss the appeal of his work, the processes behind his films and a pervading sense of spirituality.

W*: Accessibility is a dirty word in the art world – but you are happy to be accessible?
BV: Most of my works have no words, nor do they have music. This is not a deliberate attempt to be 'accessible' but that is one of the positive byproducts of working in this way. I explore universal themes with images that everyone can recognise and because these images are moving, they draw the viewer in, resulting in a personal experience of the piece. Moving images take time, and that is what I hope I can give to the viewer; time for reflection and most importantly, for self-reflection.

You work with actors. How much do you have to do in the way of 'directing' and how much do you put them in a situation and watch them react? Do you have to do lots of takes?
Many of the subjects in my works are professional actors, but some are not. When they are not, or if they are inexperienced, we usually do only one take, otherwise the element of surprise in a situation cannot be repeated. I spend time getting to know the performers, discussing personal experiences and drawing out their emotions before we begin. I explain what will happen and what I would like them to do (walk through a water wall, or get doused by different coloured liquids). However, their reactions have to be their own, and that is why I prepare them ahead of time to get them in the zone. Many times an actor will tell me that what they worked on in preparation for the shoot goes out the window, and their emotions take over.

You have long had a deep interest in religion and spirituality – the various ways of understanding why we're here and where we end up. It must sadden you that religion is now something that seems only to divide people. Are there any reasons to be optimistic about our collective spiritual journey? And can art help with that?
Spirituality and religion are not always the same thing. When religion becomes dogma and a tool for power and suppression, it is no longer religion, nor is it spiritual. I have to be positive – after all, just in the last few decades Tibetan Buddhism has gone from being the religion of one small country, to being practiced world-wide, and this is religion that teaches peace and compassion. Those who wish to listen will learn and will practice. The role of the artist is to describe the human soul; this is a very important contribution in trying to figure out who we are.
INFORMATION
'Bill Viola' is on view at Yorkshire Sculpture Park until 10 April 2016
Moving Stillness (Mt.Rainier) is on view at Blain|Southern until 21 November
'Bill Viola: The Talking Drum' is on view at The Vinyl Factory Space until 7 November
ADDRESS
Yorkshire Sculpture Park
West Bretton
Wakefield
West Yorkshire, WF4 4LG
Blain|Southern
4 Hanover Square
London, W1S 1BP
The Vinyl Factory
16–18 Marshall Street
London, W1F 7BE
VIEW GOOGLE MAPS (opens in new tab)