'Big Kastenmann' by Erwin Wurm at The Standard hotel, New York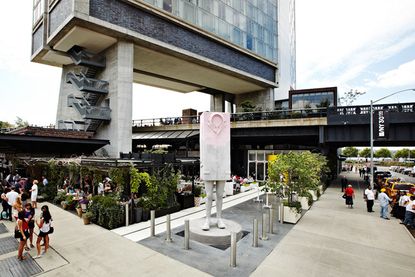 (Image credit: Adrian Gaut)
A headless giant is currently standing outside The Standard hotel (opens in new tab) in New York. Named 'Big Kastenmann' and sporting a pink-and-grey suit, with a somewhat boxy silhouette, the 18ft figure is the first public artwork by Viennese artist Erwin Wurm (opens in new tab)to grace the city's streets.

Wurm is notorious for his obsession with the body, though less as an object of desire than as something to distort, swathe in fabric and impale with all manner of household objects. Last year he teamed up with Wallpaper* to create a series of living sculptures (opens in new tab)wrapped - quite literally - and snapped in the season's latest fashions (W* 144). Earlier, he paid homage to one of his favourite phallic props with a recipe for deep-fried gherkins (W* 138).

The artist's human sculptures are often grotesque, trapped in a latex fat suit or with strange appendages protruding from their bodies. His latest character is rather more demure - aside from his missing head. Big Kastenmann has brushed-metal legs and a 5.5m cast aluminium torso, coated with dripping, baby-pink enamel paint.

Wurm is the latest artist to get The Standard's backing. Last year, it was the turn of New York artist KAWS', whose cartoon-like 'Companion (Passing Through)' also occupied the plum spot on the hotel's outdoor piazza.

Come November, when Big Kastenmann gives up his post at The Standard's Washington Street address, more Wurm characters will pitch up at Lehmann Maupin (opens in new tab) gallery, which is hosting solo show of the artist's work on West 26th.