Artist's Palate: Erwin Wurm's deep fried gherkin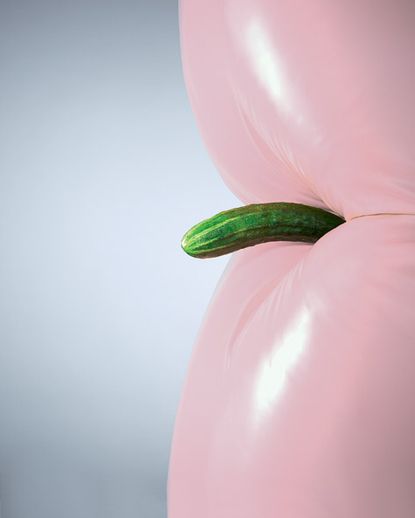 (Image credit: press)
Austrian sculptor and photographer Erwin Wurm likes a gherkin. They appear regularly in his absurdist One Minute Sculptures – think people with their heads through walls, with toothbrushes in their ears and gherkins in their armpits. Add this together with his partiality to a bit of fat and fondness for humour, and you have all the key elements of his recipe.

Ingredients
4 gherkins, approximately 120g each
1/4 cup all-purpose flour
2 eggs, lightly whisked
1/2 cup bread crumbs
salt and pepper to taste
1/8 cup oil or lard for frying (lard is traditional)

Method
The gherkin will need to be pounded until it is around a 1/4 of an inch thick. Make sure to trim the edges of the gherkin carefully.

Lightly season the gherkin with salt and pepper. You will need three shallow bowls – one for the eggs, one for flour and one for the breadcrumbs.

Dip the gherkin in the flour first, then in the whisked egg and then in the breadcrumbs. Be careful to ensure that the entire gherkin is completely covered with the breadcrumbs.

Do not press the bread crumbs into the gherkin!

Place the gherkin in a hot frying pan, make sure the breaded gherkin 'swims' in fat. Cooking time should not be more than 4 minutes for each side.

Remember to serve hot with fresh lemon and potato salad, Viennese style.

Note: I have determined the nutritional value of oil for frying based on a retention value of 10% after cooking. The exact amount may vary depending on cook time and temperature, ingredient density, and the specific type of oil used.
Receive our daily digest of inspiration, escapism and design stories from around the world direct to your inbox