How has Covid-19 impacted children emotionally?
In a new series Children of Covid, London-based photographer Bex Day has compiled a photographic and written record of the pandemic's impact on children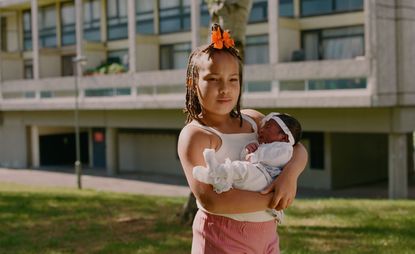 (Image credit: Bex Day)
Known for her emotionally sensitive works, British photographer and director Bex Day has recently turned her lens to a cohort often overlooked in a new series, Children of Covid.
As in many countries, during the pandemic, schooling in the UK moved from bustling classrooms filled with friends to staring at screens from home. While parents, under their own strains, undoubtedly did their best, the impact this isolation may have on the rest of children's lives cannot be ignored. For those who have lost loved ones, life has been even harder.
After looking inward to process the first wave of hardship within the context of her struggles with OCD, Day was yearning to connect with others. After a friend's child experienced delays in speech development due to lack of social contact at playgroups and nursery, Day was keen to learn more of how this time has affected children's psychology, while retaining mental health as a key theme. As restrictions eased over the summer, the artist worked with children aged between four and 13, providing a condensed survey of the impact the pandemic has had on their formative years.
Collaborating with stylist Adam Winder, and hairstylist Tommy Taylor; the team created a platform for these children to have a voice. Accompanying the sometimes surreal portraits are writings by each child or their parents.
Day explains that while boredom was a common theme, the children also described having more time to be curious about the world around them. 'I loved their honesty and how you really had to work to keep their attention and focus on you. If you aren't interesting enough then they won't give you much leeway', Day explains. Anger, impatience, boredom, sadness and loneliness are all mentioned by the children, but so are patience, maturity and gratefulness.
As an extension to Day's series, Channel 4 has created a micro-documentary with some of the featured children, adding another dimension to this compelling project. Here, these children and their parents share their unique stories.
INFORMATION
Bex Day's exhibition, 'Children of Covid' will be on view from 9 July - 25 July 2021 at Offshoot Gallery, London. offshootgallery.com
Sophie is currently Photography Editor at Wallpaper*. Sophie joined the team following the completion of her photography degree in 2018, and works with Photography Director Holly Hay, where she shoots, commissions, produces, and writes on photography. Alongside this, she continues her art practice as a photographer, for which she was recently nominated for the Foam Paul Huf Award. And in recognition of her work to date, Sophie was nominated by the British Journal of Photography for the Futures photography platform in 2021.
With contributions from