Berlinde De Bruyckere on religion, chaos and decay: 'simplicity is the territory of humans'
We speak to Belgian sculptor and visual artist Berlinde De Bruyckere ahead of her show 'A simple prophecy' at Hauser & Wirth Zurich, Limmatstrasse, 26 January – 13 May 2023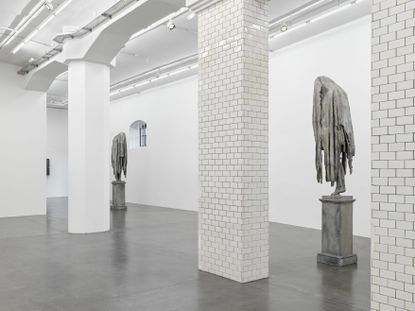 (Image credit: Courtesy the artist and Hauser & Wirth. Photography: Stefan Altenburger, Photography Zürich)
In her show, 'A simple prophecy' at Hauser & Wirth Zurich, Limmatstrasse, Berlinde De Bruyckere weaves history, religion and decay into monumental lead and wax sculptures and mixed-media relief works.
As with many artists when asked about their work, De Bruyckere responds by delving into her longstanding developments, unpacking narratives from myriad experiences, and reflecting on a changing world. 'In the 30 years since my career started, my perception of the world we live in, of our society, has changed. I think we have failed somehow. So many promises and resolutions were made, so very few of those became a reality.' In 'A simple prophecy', De Bruyckere is seeking to transform the divine into something more human, bridging a gap between the angelic figures in her Arcangelo series and reflecting on beauty and decay in It almost seemed a lily.
In the era of isolation that characterised the Covid-19 pandemic, De Bruyckere meditated on the pain of dying alone that was felt across the globe, and began seeing saviours from that pain in people. 'The nurses and the soldiers and everybody working in the hospitals, they became for me like angels.'
For the Arcangelo works shown in Zurich, she has created full-scale human forms (De Bruyckere developed a technique for the materials, combining lead and bronze to create works that can stand exposed to the elements without being dramatically altered) and places them high on plinths. 'The distance we feel when we first encounter these sculptures is really important; they are high up on their pedestals, it's like they are asking for respect.' The plinths echo the overwhelming scale of the tomb of Vasco de Gama. De Bruyckere visited the artefact on a trip to Lisbon, and admired how it protected the Portuguese explorer's small body.
On their shoulders, the figures hold swathes of wax-cast animal hides that obscure all but their legs, thin and fragile in comparison to the heavy load they carry on their backs. 'The title "A simple prophecy" embodies the connection between the profane and the divine. In this specific selection of works, there is always a religious starting point, but then they move to a more universal, human level,' says De Bruyckere. 'I really want to make [the Arcangelos] more human. I think this aspiration is reflected in the title: a prophecy is never simple, simplicity is the territory of humans. The divine is always more complex and chaotic.'
De Bruyckere frames the Arcangelo figures as simultaneously vulnerable and powerful, using height to inform status, and composition to expose us to their humanity. The final figure of the show, Liggende - Arcangelo I, 2022-2023, (2023), lies flat, described by De Bruyckere as an injured bird waiting for help, and further narrows the gap between human and religious figures.
This notion returns in her florally inspired works, informed by a trip to a nunnery in Mechelen, Belgium. De Bruyckere describes coming across miniature recreations of the Garden of Eden in the nunnery. Small figures were made from parts of dried flowers, wooden twigs and foliage wrapped in silver, fruit pits painted and decorated, and small amulets placed amongst them by the nuns. The boxes were contained by covers, which allowed them to be closed away, a feature used in her It almost seemed a lily series. 'I photographed hundreds of these tiny flowers; they became very special to me and I really searched for a way to translate this feeling of abundance and secrecy.'
The mixed-media series is inspired by impressions from the undersides of petals and flowers cut open to expose their reproductive systems. They comprise paper petals, hung in reliefs, and include a box filled with organic matter, echoing those seen in Mechelen. De Bruyckere presents these floral depictions 'not when it is bright and open and wild', but dried and decaying. Alongside the craft put into the boxes, she offers an honest view of her subject matter. 'It's showing us we all have to die, that we're getting older and more fragile, and have all this knowledge that we have built up during our lives.'
De Bruyckere's 'A simple prophecy', in symbolism, execution and inspiration, proposes a narrowing of the gap between religious symbols and humanity.
Berlinde De Bruyckere: 'A simple prophecy' is showing at Hauser & Wirth Zurich, Limmatstrasse, from 26 January – 13 May 2023
hauserwirth.com (opens in new tab)
Martha Elliott is the Junior Digital News Editor at Wallpaper*. After graduating from university she worked in arts-based behavioural therapy, then embarked on a career in journalism, joining Wallpaper* at the start of 2022. She reports on art, design and architecture, as well as covering regular news stories across all channels.