Ben Orkin's sensory ceramics: safe sex, pleasure, and the stigmas of HIV
To mark World AIDS Day 2021, we revisit our recent interview with South African artist Ben Orkin whose ceramic work explores sexual intimacy, protection and the stigmas of HIV/AIDS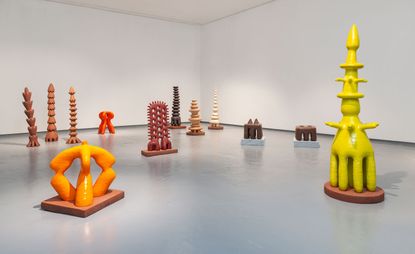 (Image credit: TBC)
The ceramic artist Ben Orkin, who is currently showing his enigmatic glazed clay vessels at Whatiftheworld Gallery in his native Cape Town, was 18 when he came out as gay. His parents were unconditional in their acceptance, but cautioned him about the risks of sexual intimacy. Their fears and anxieties, he says, briefly became his – until he immersed himself in an unfamiliar history.

'HIV/AIDS was a family history I had to learn,' says Orkin, whose exhibition 'Extra Safe' materialises a nearly three-year journey of personal and professional discovery.

Composed of some 50 discrete works displayed alone or as interconnected pieces, the exhibition draws together student work alongside new pieces made this year. Orkin completed his BFA at the University of Cape Town last year. His mentor was the acclaimed sculptor Jane Alexander. Her influence is palpable in his precise descriptions of his materials and processes.
Orkin's vessels are patiently fabricated from rolled coils of wet clay that he stacks on top of each other, over and over, and then smoothens together. 'I intentionally seal most vessels with a coat of glaze as a layer of protection,' writes Orkin in a 2020 booklet laying out the intellectual foundations of his practice. 'The seal becomes the barrier between what each vessel holds inside and what happens outside them.'

'Extra Safe' is centrally about sexual intimacy among men. Not that this is obvious in the form of Orkin's individual pieces, which present as droll and poignant, cryptic and obvious. The bulbous growths on the upper part of a tall upright piece with an overlong title quote the pleasure-giving form of anal beads. The spiral form of Wipe Out the Past (2021) is based on an earth auger drill. Aids Ribbon (2021) materialises a popular symbol with a lasting currency in South Africa, a country that today has the highest overall HIV prevalence rate in the world.
A key work, the installation How to Have Sex in an Epidemic: One Approach (2021) features more than two-dozen interlocking ceramic pieces in different colours, ranging from smoky grey to post-box red. Together they form a closed loop. The protruding outgrowths and receding depths of the individual pieces, many redolent of Orkin's earlier functional ceramics sold at fashion concept store AKJP Studio, speak to his interest in visualising various binaries to do with love and fear, protection and hurt. The installation's arresting title is borrowed from a controversial gay sex pamphlet published in New York in 1983.

Orkin was born in 1998, the same year the United Nations revealed that more than 95 per cent of all HIV-infected people lived in the developing world. South Africa then accounted for nearly one in ten new HIV infections globally. At the same time, American health authorities issued the first national treatment guidelines for the use of antiretroviral therapy in adults and adolescents with HIV, ushering in a dual reality of possible treatment and enduring misery and stigma.

Orkin is aware of the health burden HIV/AIDS has placed on Black women in South Africa. His ceramicist mother, Gemma, worked for Monkeybiz, a craft-based social improvement project founded in 1999 to support HIV/AIDS prevention and treatment projects. The organisation, a cooperative of women, is best known for its intricate, glass-beaded dolls. A successful teen food blogger before he turned to art, Orkin's earliest work included beaded pieces featuring explicit statements about his gay identity.
Cape Town's art community has enthusiastically received 'Extra Safe'. 'This show is great,' yells painter Brett Charles Seiler during my interview with Orkin. 'I love the lime green in the other room. But the work makes me nervous: I'm so scared I'll trip and fall over it.'

I ask Orkin, whose father Bradley invented the Junior Tradesman line of kit-based home assembly toys replete with cement-coloured dough and dinky bricks, about the liberation of showing in a gallery after principally being celebrated for his functional ceramics.

'Ceramics lies somewhere in between art and design,' responds Orkin. 'No matter what you make, people will always associate ceramics with design, which can be challenging. This work is not functional at all, because there is no opening where someone can rudely put a flower.'
INFORMATION
Ben Orkin: 'Extra Safe', was on view in November 2021 at Whatiftheworld Gallery, Cape Town. whatiftheworld.com
Sean O'Toole is writer, editor and curator based in Cape Town. He has published two books, most recently a 2021 monograph on the expressionist painter Irma Stern, as well as edited three volumes of cultural essays, including 'The Journey: New Positions on African Photography', which received a New York Times critics' pick for Best Art Books 2021. His exhibition projects include 'Photo book! Photo-book! Photobook!' at A4 Arts Foundation, Cape Town.