Ben Long 'Art Work', London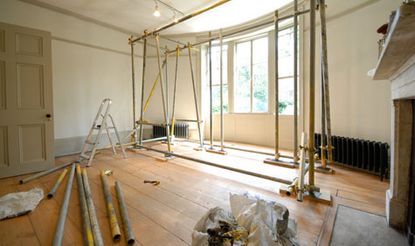 (Image credit: Press)
Following the dictum that one man's trash is another man's treasure, British artist Ben Long makes sculptures out of scaffolding and drawings in the scum on the back of trucks. In the most obvious way his work turns daily eyesores into things of beauty.
Click here to see the gradual construction process.
Up until now birds, dogs and deer have been the subject of his sculptures and dirt canvases, highlighting the disparity between man-made grime or industry and natural life. His latest work though is a foray into freestanding words, made from scaffolding.
Two separate words, 'WORK' and 'ART' currently take up the interior space of one of our favourite young London galleries, Man&Eve. Separating the more familiar 'artwork' into its component words, places emphasis on the constructive labour at the heart of Long's creative work, at the same time suggesting every piece of art involves a considerable amount of graft.
Long photographed the painstaking construction process of the word 'ART' for us, pole by pole, which gives an impression of the sheer work involved. Just as a bird drawn from dirt on the back of a lorry serves to question man's relation to nature, so these hulking scaffold words, separated and built in such a foreign material, lead us to question the boundaries between natural creativity and man-made labour.
ADDRESS
Man&Eve
131 Kennington Park Road
London SE11