Barnaby Barford's Seven Deadly Sins at David Gill St James', London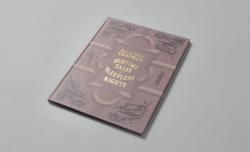 (Image credit: Press)
'Malice shall come to wreck the night, to cleave its comfort and impugn your delight', is just an example of the chilling poetry that can be found in artists Jake and Dinos Chapman's new book. Probably the only 'children's' book unsuitable for children, 'Bedtime Tales for Sleepless Nights', is filled with just about every shock the brothers can muster.

Published by Fuel and produced in collaboration with the White Cube Gallery, the hardback publication is deceptively presented as a classic children's book, with thick pages displaying large-print text, accompanied by colourful etchings.

The artwork has been created exclusively by the pair and the words, which have also been penned by them, are a vivid and dark re-imagining of the Victorian morality tale, which ironically uses the familiar and innocent verses often found in children's stories.

In celebration of the book's launch on 7 November, the duo will be on hand for a signing at the White Cube Bermondsey, where they will be dressed as bunny rabbits and housed appropriately in a Wendy house, which has been constructed by the pair specially for the occasion.
As an added bonus, purchasers of the book on the night will receive a raffle ticket offering them the chance to win a personal reading from the book in their own home by the artists. Just a note of warning: cover your little ones' ears.
ADDRESS
White Cube Bermondsey
144 – 152 Bermondsey Street
London SE1 3TQ