Artist's palate: Vidal Sassoon's spaghetti bottarga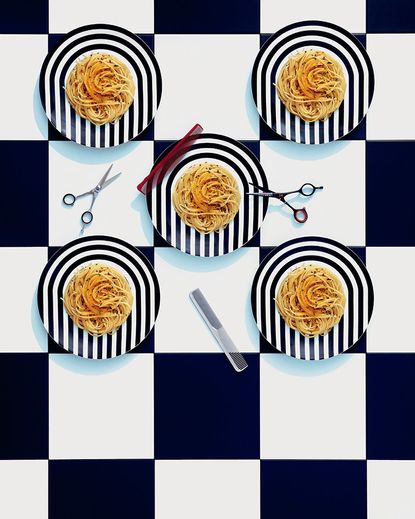 (Image credit: Zachary Zavislak)
We received this month's recipe from Ronnie Sassoon several months before her husband died at their Richard Neutra-designed house on Mulholland Drive in May. We present it now as our tribute to the man who revolutionised hairdressing with his geometric, easy-maintenance cutting and styling. It is a fittingly simple dish with a piquant dash of luxury. At its plainest, it is a dried chilli- and garlic-infused spaghetti, but topped with parsley and the Mediterranean's cured fish roe, bottarga. The pressed, salted and dried roe of the grey mullet, which imparts a sweet but densely briny flavour, was a delicacy Ronnie and Vidal discovered on their first trip to Sardinia and remained Vidal's favourite dish, a dish that brings happy memories of the Med to a simple meal. We'd like to say thank you, Mr Sassoon, for all you did.

Ingredients
1/2 cup good quality olive oil
1/2 tsp dried red chilli pepper
6 garlic cloves, slightly smashed
16oz spaghetti
1/4 cup chopped parsley
1oz mullet bottarga (dried Sardinian fish roe)

Method
Put the olive oil in a saucepan with the dried chilli and smashed garlic and place over a low to medium heat (enough to infuse the oil with the garlic without turning the garlic brown). Bring a large pan of water to the boil, then add the pasta and cook until al dente. Drain the pasta, toss with the olive oil mixture and dish into shallow bowls. Garnish with parsley and at least one of the garlic cloves. Grate a generous amount of bottarga over the top and serve.
INFORMATION
Photography: Zachary Zavislak. Interiors: Linda Kell