Artist's Palate: Michael Craig-Martin's omelette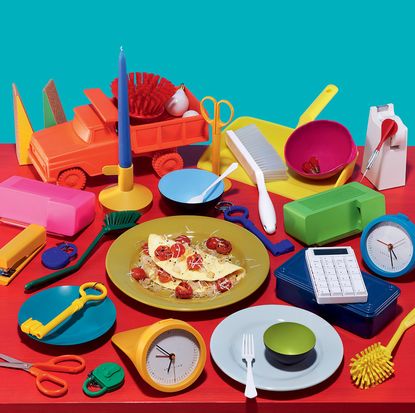 (Image credit: Zachary Zavislak)
Clockwise from top left, doorstops, $30 for pair, by Dan Michalik; 'Pickup' truck, $100, by Harry Allen. Scrubbing brush, $18, from The Future Perfect. 'Large White Bulbs', $1.25 each, by Patrick Townsende. 'Flag' candlestick, $27.50, by Jonas Wagell, for Normann Copenhagen. 'Krenit' bowl, $50, by Herbert Krenchel, for Normann Copenhagen. 'Naples' teaspoon, €10, by Astier de Villatte. Scissors, $39, by Anything. Blue 'Silicon Key Keychain', $14, by Harry Allen. Dustpan, $17; brush, $12, both from The Future Perfect. 'Jensen Bowl', $58 for set of three, by Ole Jensen, for Normann Copenhagen. 'Small Red Bulbs', $1.25 each, by Patrick Townsend. Dart, from 'Finnish Dart Set', $51, by Toijala. Tape dispenser, $39, by Anything. Green 'Alarm Dock', $30, by Jonas Damon. Blue alarm clock, $69, by Anything. Blue storage box, $27, from Kiosk. '10 Key Calculator', $54, by IDEA International. Yellow washing-up brush, $18, from The Future Perfect. 'Krenit' bowl, by Herbert Krenchel, for Normann Copenhagen. 'Naples' dessert fork, €15, by Astier de Villatte. 'Colorware' white plate, $8.95; green plate, $10.95, both from Fishs Eddy. Yellow alarm clock, as before. Green 'Silicone Lock Keychain', $12, by Harry Allen. Scissors, $39, as before. 'Krenit' dish, $25, by Herbert Krenchel, for Normann Copenhagen. Yellow 'Silicon Key Keychain', as before. Green washing-up brush, as before. Blue 'Silicone Lock Keychain', as before. Stapler, $39, by Anything. Pink 'Alarm Dock', as before. 'Welland' table, $1,492, by Ineke Hans
In Michael Craig-Martin's hands an omelette could, conceptually, be anything. If the primacy of the artist's intention can make a glass of water An Oak Tree, as he maintained amid no little controversy in 1974 (opens in new tab), then an omelette can be anything he wants it to be. Or, indeed, anything the generations of YBAs he taught at Goldsmiths want it to be (although in their case it would often be an omelette for Charles Saatchi). It's also the kind of everyday object that could one of his boldly outlined still-life pictures painted in ultra-vivid colours. In this case, more prosaically, what it actually is, is lunch. Additionally, it is also just about the only thing he knows how to cook.

Ingredients
3 large free-range eggs
sea salt
ground pepper
grated Parmesan
1 onion
olive oil
5 to 6 small cherry tomatoes
knob of butter

Method
Blend the eggs lightly with a fork adding the salt, pepper and Parmesan. Chop the onion, but not too small, and cook in olive oil till transparent. Place in a bowl. Slice the tomatoes in half and cook in olive oil until soft and mushy. Mix the tomatoes and onion together. Heat the butter in a small frying pan until hot. Pour in the eggs. As they cook, use a wooden spoon to pull the mixture from the edges to the centre, letting uncooked egg spill to the edge. When only a small amount of liquid egg remains add some, but not all, of the onion and tomato mixture. Fold the omelette in half, but do not roll. Turn if necessary. Slide onto a plate and add the remaining onion and tomato along the open side. Season with salt and pepper.
INFORMATION
Photography: Zachary Zavislak