Artist's Palate: Georgie Hopton and Gary Hume's Pasta Liguria
Warm up with Georgie Hopton and Gary Hume's home-grown comfort food, as featured in our monthly artist's recipe series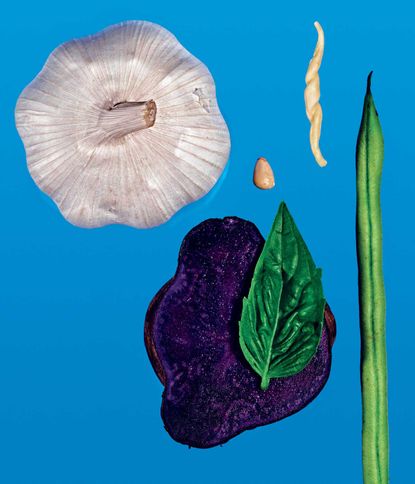 (Image credit: Bobby Doherty)
* As featured in our monthly artist's recipe series
Pasta Liguria may hail from the Italian Riviera, but for Georgie Hopton and Gary Hume, the dish is deeply entwined with upstate New York, where they own a 40-acre farmstead. 'Apart from the fact that this dish is utterly delicious and profoundly comforting, we get stupidly excited at the prospect of using our early potatoes, the ever giving beans and lots of aromatic basil from our vegetable garden,' Hopton explains. The result is a dreamy medley of green and blue, reminding the artists of Picasso and Matisse, and the frescoes of Pompeii. The couple recommend serving the pasta 'in hot bowls in front of a good film, with a glass of something that shines in the light like wet grass'.
Pasta Liguria recipe
Ingredients
175g trofie pasta (or broken spaghetti)
75g blue potatoes, skins on, sliced 4mm thick
75g green beans, cut in half if using fine, in thirds if thick
50g basil leaves
1 large clove garlic, peeled and chopped
1 tbs pine nuts
6 tbs fabulous olive oil
25g grated pecorino cheese
salt and pepper

Suggested vegetable varieties
Blue potatoes - Adirondack Blue
Green beans - Fin de Bagnol
Green basil - Genovese

Method
Boil the pasta and potatoes together in a large pot of salted water, adding the green beans after 7 minutes. Meanwhile, make your pesto: put the basil leaves, garlic, pine nuts and olive oil in a food mixer, season with salt and pepper, and whizz until smooth, then stir in the cheese. Reserve a cup of the pasta water before draining. Add half of this (or more, if desired) to the drained pasta and vegetables with the pesto. Serve in hot bowls in front of a good film, with a glass of something that shines in the light, like wet grass.
A version of this article is featured in the December 2020 issue of Wallpaper* (W*260) – on newsstands now and available for free download here
INFORMATION
'Gary Hume: Archipelago' is at Sprüth Magers London until 23 December, spruethmagers.com
TF has been editor of Wallpaper* since December 2020. He is responsible for our monthly print magazine, planning, commissioning, editing and writing long-lead content across all our content pillars. He also plays a leading role in multi-channel editorial franchises, such as our annual Design Awards, Guest Editor takeovers and Next Generation series. He aims to create world-class, visually-driven content while championing diversity, international representation and social impact. TF joined Wallpaper* as an intern in January 2013, and served as its commissioning editor from 2017-20, winning a 30 under 30 New Talent Award from the Professional Publishers' Association. Born and raised in Hong Kong, he holds an undergraduate degree in history from Princeton University.
With contributions from