Artist's Palate: Frank Bowling's pig's trotters in vodka and beer
Immerse yourself in abstract artist Frank Bowling's slow-cooked favourite, as featured in our monthly artist's recipe series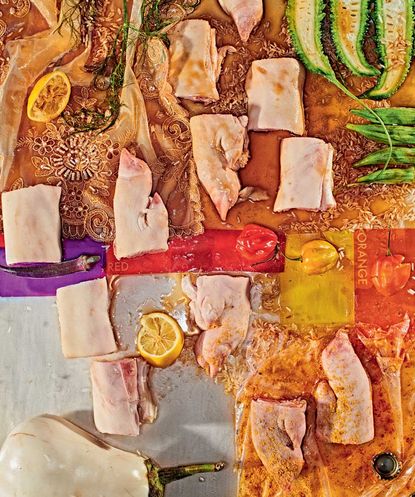 (Image credit: Bobby Doherty)
He is one of Britain's foremost abstractionists, but Frank Bowling is also renowned for his love of pig's trotters, a dish that reminds him of his childhood in Guyana. During a career that has lasted more than six decades, he has been so immersed in his exuberant, large-scale canvases, it has left little time for preparing food. 'The use of an electric slow cooker was a practical solution to this problem,' explains Bowling's wife, textile artist Rachel Scott. 'This recipe became a staple of his diet. It supplied him with an instant warm and hearty dish after a long day at the studio. To date, it remains one of his favourite dishes.
Ingredients

5-6 pig trotters
1 small aubergine
1/2 bulb of fennel
12 Okra
1-2 medium karelas (bitter melon)
1/2 scotch bonnet
1/2 glass of vodka
1 bottle of beer
Water (if required)
RELATED STORY
Method

Roughly chop the aubergine and fennel
Cut the karela in half, remove seeds and chop
Remove the seeds from the scotch bonnet and finely chop
(alternatively leave the scotch bonnet whole for a stronger heat)
Place all ingredients in a heavy casserole dish
Add the vodka and beer
If required, add some water enough to cover Trotters
Allow to slow cook for 24 hours

Cook's Tips

Before serving the stew, remove large and small bones
Serve with boiled rice, and cooked spinach
Squeeze a lemon over each serving.
INFORMATION
TF has been editor of Wallpaper* since December 2020. He is responsible for our monthly print magazine, planning, commissioning, editing and writing long-lead content across all our content pillars. He also plays a leading role in multi-channel editorial franchises, such as our annual Design Awards, Guest Editor takeovers and Next Generation series. He aims to create world-class, visually-driven content while championing diversity, international representation and social impact. TF joined Wallpaper* as an intern in January 2013, and served as its commissioning editor from 2017-20, winning a 30 under 30 New Talent Award from the Professional Publishers' Association. Born and raised in Hong Kong, he holds an undergraduate degree in history from Princeton University.
With contributions from