Artist's Palate: Claude Lévêque's tomates farcies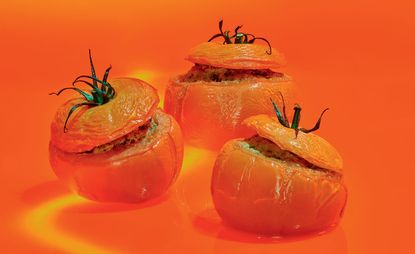 (Image credit: Philippe Fragniere)
Whether scrawled across a wall, winding along a bridge on the Seine, or piercing the Louvre's glass pyramid, Claude Lévêque's neon works have an unmistakable verve and mythological charge. Small wonder that our erstwhile guest editor Karl Lagerfeld called the French conceptual artist 'a divine man' (see W*127). The works stand in sharp contrast to Lévêque's famously down-to-earth demeanour, as reflected in his favourite dish, stuffed tomatoes. 'I usually make it with sun-ripened tomatoes from my garden in Pételoup, in Nièvre, during the summer,' he explains. 'It's a good recipe to share with friends on the terrace with a light local wine.'

Ingredients
Serves 5

200g chopped lean beef
150g sausage meat
150g chopped veal
1 tsp cumin
1 tsp curry powder
1 tsp paprika, cinnamon and turmeric
grind from a baies moulin (prepacked mills filled with spices such as black peppercorns, pink peppercorns, coriander seeds and allspice berries)
bunch of fresh coriander, finely chopped
2 tbsp olive oil
10 tomatoes, large and fleshy, such as Coeur de Boeuf, Russian or Pineapple
1 red pepper, deseeded and cut into strips
1 green pepper, deseeded and cut into strips
salt and pepper

Method
Preheat the oven to 180 degrees C. In a large bowl, mix and knead with your hands the meat, spices, coriander and olive oil, then season with salt and pepper. Remove the tops of the tomatoes and put the tops to one side. Hollow out the tomatoes and put the fleshy insides to one side. Divide the stuffing mix between each hollow tomato, arrange strips of pepper on top, then spoon over some of the tomato flesh. Put the tomato tops back on and arrange in an ovenproof dish. Bake for 1 hour.
A version of this article originally featured in the November 2019 issue of Wallpaper* (W*248) – on newsstands now
INFORMATION
TF Chan is a former editor of Wallpaper* (2020-23), where he was responsible for the monthly print magazine, planning, commissioning, editing and writing long-lead content across all pillars. He also played a leading role in multi-channel editorial franchises, such as Wallpaper's annual Design Awards, Guest Editor takeovers and Next Generation series. He aims to create world-class, visually-driven content while championing diversity, international representation and social impact. TF joined Wallpaper* as an intern in January 2013, and served as its commissioning editor from 2017-20, winning a 30 under 30 New Talent Award from the Professional Publishers' Association. Born and raised in Hong Kong, he holds an undergraduate degree in history from Princeton University.