Cyber space: artists Langlands & Bell explore the architecture of tech titans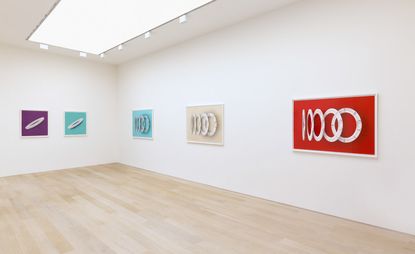 (Image credit: FXP Photography)
Wallpaper* Newsletter
Receive our daily digest of inspiration, escapism and design stories from around the world direct to your inbox
Thank you for signing up to Wallpaper. You will receive a verification email shortly.
There was a problem. Please refresh the page and try again.
For 40 years, British artists Langlands & Bell have decoded the structures of buildings to illuminate human relationships – their subjects have included Le Corbusier's Cité Radieuse, the British Museum, Millbank Penitentiary and, most famously, the house of Osama bin Laden (a work which earned them a nomination for 2004's Turner Prize). For their new exhibition, opening this month at London's Alan Cristea Gallery, they are turning their attention to the futuristic architecture of internet giants.

The show consists of 24 editioned prints, depicting in-progress or recently completed 'campuses' belonging to Apple, Facebook, IBM, the Gates Foundation and Nvidia. Stripped of texture and context, they are shown in distilled form against sharply coloured backgrounds that accentuate their shape. Most of them are laid at an oblique angle, so viewers 'feel like God looking down at a Lilliputian landscape', and experience a rare sense of power over companies that have influenced almost every aspect of our lives.

The belle of the ball is the new Apple HQ in Cupertino, California – a ring-shaped, spaceship-like building commissioned by the late Steve Jobs and designed by Foster + Partners. With a circumference of one mile, it is unprecedented in scale and ambition. But by presenting it in top view, the artists emphasise its circular shape, which has parallels throughout historical architecture. 'You can see the connection between the Apple building and the Coliseum, and between architecture, power and spectacle,' the duo contends. Like the Coliseum, and by extension the Roman Empire, the Apple building stands for universal vision, but also the centralisation of might.
The simplicity of Langlands & Bell's prints belies meticulous research and production. The artists began by constructing physical models based on building plans downloaded from municipal websites. These were photographed from various perspectives, then redrawn on a computer. It's a reflection of the artists' belief that old and new ways of working can complement each other. 'The camera didn't make painting irrelevant, but it changed painting significantly. Similarly, virtual making hasn't made physical model making redundant.'

There are also two wall sculptures, one depicting Apple's campus at Sunnyvale, the other Facebook's HQ at Menlo Park. The latter was designed by Frank Gehry, but eschews the flamboyance that characterises the architect's other work. Instead, it comprises a single floor on stilts with a garden-like roof. Langlands & Bell contend that Facebook is reluctant to reveal the extent of its power – it avoids monumental architecture lest it appear as a monolithic conglomerate. Accordingly, the wall sculpture does not show the building's façade, but presents a model of the interior, colour-coded for both functional purpose and aesthetic impact. The grey area represents open-plan office space for 2,800 employees, making it the single largest room in the world. The artists call it a 'spectacle of endless access', a deliberate display of transparency that contrasts with the way some say that Facebook has enslaved its users.

The artists look forward to continuing the series beyond this exhibition, yet they question if the architecture of internet giants might have the same symbolic force as 'the cathedrals of the Middle Ages, the baroque palaces and gardens of the Enlightenment, and the factories and railway stations of the Industrial Revolution'. As impressive as the buildings may be, it remains to be seen whether architecture will remain a potent social force in the information age.

As originally featured in the May 2017 issue of Wallpaper* (W*218)
INFORMATION
'Infinite Loop' is on view 27 April–3 June. For more information, visit the Alan Cristea Gallery website
ADDRESS
Alan Cristea Gallery
43 Pall Mall
London SW1Y 5JG
Receive our daily digest of inspiration, escapism and design stories from around the world direct to your inbox
TF Chan is a former editor of Wallpaper* (2020-23), where he was responsible for the monthly print magazine, planning, commissioning, editing and writing long-lead content across all pillars. He also played a leading role in multi-channel editorial franchises, such as Wallpaper's annual Design Awards, Guest Editor takeovers and Next Generation series. He aims to create world-class, visually-driven content while championing diversity, international representation and social impact. TF joined Wallpaper* as an intern in January 2013, and served as its commissioning editor from 2017-20, winning a 30 under 30 New Talent Award from the Professional Publishers' Association. Born and raised in Hong Kong, he holds an undergraduate degree in history from Princeton University.