Artist Trevor Jackson pays homage to physical music formats with new tracks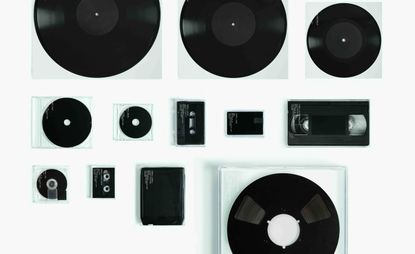 (Image credit: press)
Following a 14 year hiatus, artist Trevor Jackson is releasing 12 new tracks across a range of different audio formats, including vinyl, mini-disc, 8-track and VHS
The last time Trevor Jackson put out music was also the last time he feels musicians were fully in control of who and how their music is listened to: 14 year ago. Before iTunes and Youtube, and before even the likes of Madonna and Björk were forced by leaks to release albums prematurely. 'I didn't want anything to do with it any more,' says the DJ, graphic designer and label impresario. 'I was disheartened about creating music. My music is a precious creature – I didn't want to give it away.'

Jackson returned to art direction and design, meanwhile building up an archive of some 150 unreleased tracks. Over time he refined and remastered a careful selection of that music – an inventive mix of house, new wave, techno, beatbox and ambient sounds. But rather than release it digitally, this week Jackson is orchestrating possibly the most democratic listening experience in recent memory. Today, he'll release 12 new songs, each in a different format, from vinyl and mini-disc to 8-track and VHS.

The limited edition release, called 'Format', pays homage to physical music formats from Jackson's childhood and celebrates the simple act of listening. 'With the homogenisation of music,' he says, 'I've begun to appreciate all the fine details of the music I have – the digital displays, the sound of ejecting a CD…. Physical objects just mean more to me. I still buy DVDs and Blu-ray.'

Jackson's music will appear in individual formats at formatvf.com – save for the reel-to-reel track, which will comes in a special edition. The collection will be available only in its physical form until 25 March, when all the tracks will be released as a digital album. Jackson, who says his most treasured music is the stuff with a physical presence, would have it no other way.

'The fact that, culturally, everything has become so convenient and easily accessible – whilst in the process totally disposable – is an important subject I needed to address with this project,' says Jackson. 'As a creator of these works, I believe I have a fundamental right to control who listens to my music and how. That might sound antiquated, but it's fundamental. On the day of the release, everyone has a chance to hear the music at the same time. If I was the music fan, I'd love that. Because ultimately this is the ultimate music-nerd project.'

To accompany the release, Jackson has curated an exhibition at the Vinyl Factory, the record label, shop and exhibition space that collaborates with artists like Jeremy Deller, Massive Attack and Christian Marclay. Between 27 February and 2 March, visitors to the Vinyl Factory's space at Brewer Street Car Park, in London's Soho, will have a chance to listen to the album in full, see and purchase the limited-edition formats and also experience new, stripped-back audio-visual artworks by Jackson. 'For each format, I'm showing a short film – basically a detailed ritual of each one of these objects being played,' he says. 'It's very fetishistic. I had to restrain myself about the design, because ultimately this is a project about the format itself. The packaging is very clear and very informative.'

Jackson and his team are already referring to Format as a collector's item. That's a term you haven't heard swirling around Madonna in a long, long time.
'Format', the limited-edition release, pays homage to physical music formats and celebrates the simple act of listening
ADDRESS
The Vinyl Factory Space
Brewer Street Carpark
Brewer Street London
W1F 0LA