Andy Warhol collides with William Morris in a typically radical new show from artist Jeremy Deller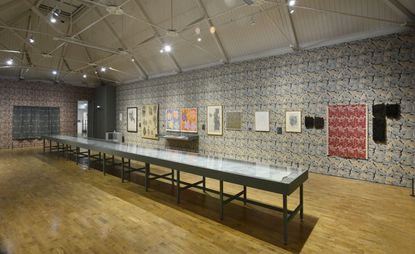 (Image credit: Andy Keate)
Picture old William Morris, grave and bearded, wearing the floppy white wig of Andy Warhol, or a pair of his trademark Miltzen sunglasses. It's an image of the sort that could have come out of Warhol's Factory, the mythical Manhattan space in which he collaborated with his coterie of artists and celebrity muses and where he crafted his legendary silkscreens.

The image doesn't exist, of course, but it symbolises the juxtaposition Jeremy Deller, another artistic prankster, wishes to highlight in 'Love is Enough', the newly opened exhibition he's curated at Modern Art Oxford.

In plucking rarely-seen works by Morris and Warhol, Deller has drawn comparisons between the two luminaries, despite the nearly 100-year gap between their careers. Both led significant artistic movements during which they collaborated with close-knit groups of artists, living communally for long stretches (both rejected the capitalistic styles of their day). And both were wildly successful in their time, widely imitated by some yet misunderstood by others.

Deller, a collaborator extraordinaire and Turner Prize-winner who began his career with a summer 'internship' at the Factory, has set them up in parallel over the dedicated space in Oxford. There are Morris' engravings, wallpapers and booklets, products of the artist's innovations in printing and distribution in the early years of mass production - and initiatives to get art into the hands of the middle classes.

On the other side is a photograph of Warhol holding a giant acetate from his famous Marilyn series of silkscreens, along with a 1985 Joan Collins, at the height of her Dynasty fame - critiques of the 20th-century culture of mass manufacturing. Warhol's 1970 'Flowers' screen print, albeit tenuously linked to Morris's floral-repeat textiles, is nonetheless evidence of the artist's commitment to the long tradition of floral painting.

In one room, segments of Morris tapestry featuring the Arthurian knights Sirs Galahad, Bors and Percival spying the Holy Grail demonstrates his attention to traditional craft and detail. It looks across to a rare 1968 Warhol tapestry of Marilyn Monroe, meticulously hand-produced by artists at the Charles E Slatkin Galleries, and displayed here for the first time in a public museum. The suggestion is that Warhol's (still strong) brand is a natural continuation of the brand Morris established in the late 19th century.

Deller famously said, 'I don't make things, I make things happen.' Yet to celebrate the launch of 'Love is Enough', he did right by his fans. For our December issue (see W*189) he designed our limited edition cover - available to subscribers (opens in new tab) - with Fraser Muggeridge studio, combining Frederick Holler's 1884 photograph of William Morris with a Warhol-inspired camouflage (its strapline, 'Get mumbo-jumbo out of the world', is based on Morris' dying words). He's also produced a limited edition artwork, hand printed on four different neon papers at Morris' famous Kelmscott Press. Until 31 December 2014, Wallpaper* is offering 50 copies to readers, at a discount price of £75. To secure a print, contact Modern Art Oxford.
ADDRESS
Modern Art Oxford (opens in new tab)
30 Pembroke St
Oxford OX1 1BP