Artist Laure Prouvost's solo show at London's Whitechapel Gallery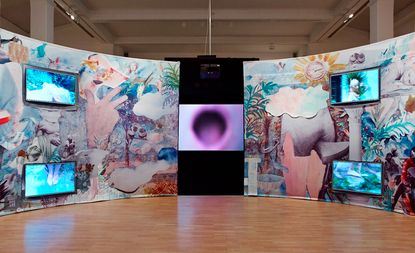 (Image credit: Stephen White)
At some point, while immersed in artist Laure Prouvost's new video installation at London's Whitechapel Gallery (opens in new tab), you realise you are being watched. You turn around to find two smaller screens, each featuring a woman swaying languorously, eyes focused eerily on you, like a hippie Mona Lisa.

Provoust's 'Farfromwords (opens in new tab)' sneaks up on you that way. It seduces you with a big-screen ode to the Italian countryside - all rushing streams and sun-kissed rose petals - but keeps you in check with surreal elements that make you wonder if this garden of earthly delights is as it appears.

The London-based French artist was the winner of the fourth Max Mara Art Prize for Women (opens in new tab) in 2011, offered in collaboration with the Whitechapel Gallery. The award came with a six-month residency in Italy, home of the fashion label. It was not, however, without strings attached. Prouvost returned this year with a show that displayed the fruits of her labours in rural Biella, near Milan: a mini-coliseum installed in Whitechapel's Gallery 1 that immerses the viewer in the landscape, palette and eccentric energy of rural Italy.

The circular structure is an allusion to classical Rome, plastered inside like a fresco with evocative elements. There are Roman pillars, olive trees, stone fountains and disembodied extremities (breasts and all) that recall marbles from the Borghese. This is where the smaller screens are displayed, with models who seem to stare in your direction, no matter where you wander.

On the main screen, a film called 'Swallow' cuts together spring-like images (fitting that the exhibit launched on the vernal equinox). There are feet steadying themselves on the river rocks, lips parting over soft ice cream, bathing nymphs - all to an audio track of constant breathing, like the earth coming to life after winter. Then it, too, gets surreal, with flashes of lips on a live goldfish and bare toes squishing raspberries.

The exhibit's full-length name is 'Farfromwords: car mirrors eat raspberries when swimming through the sun, to swallow sweet smells' and as part of the finale, guests exit past a series of mounted car mirrors upturned into platters for fresh raspberries for the taking. Savouring the tartness brings it all home.
Watch an extract from 'Swallow', 2013. Courtesy the artist and Mot International
ADDRESS
Whitechapel Gallery
77-82 Whitechapel High Street
London
E1 7QX