Artist Karin Schaefer blends divine order and queer joy with hard-edged geometry
We explore the life, work and Massachusetts studio of American artist Karin Schaefer, ahead of her solo show 'Continuum' at Sears Peyton Gallery, New York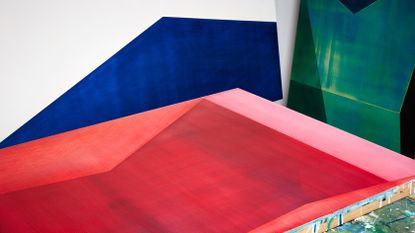 (Image credit: Stephen Kent Johnson)
A visit with artist Karin Schaefer at her South Egremont, Massachusetts studio leaves one mystically entranced and visually awakened. One need only scratch the surface to expose an existent otherworldly imprint as haunted, timeless and skewed as the narrative in a Kubrick film (sans axe).
Quaintly nestled in the Berkshire Mountains, Schaefer paints in an early 19th-century barn affixed to a house of the same era where she and her partner Diane Crespo live. The couple purchased the property close to a decade ago from a local, then octogenarian artist named June Parker who had worked and raised her children there over a number of decades. Prior to the sale, the now-late Parker shared with Schaefer her belief that she was by no means the owner of the property, merely its custodian; a guardian of its spirit, a keeper of its flame. It was clear to Schaefer that she had been 'cherry picked' by Parker, or more importantly by the property, to carry its torch forward. A sacred sense of continuum was born in Schaefer's imagination, bestowed upon her by Parker.
No stranger to things esoteric, witchy and cosmic in nature, Schaefer was the product of a Waldorf education as a child, alternately known as a Steiner education, based on the educational philosophy of Rudolf Steiner, a noted 19th-century occultist, esotericist and acclaimed clairvoyant, as well as the founder of anthroposophy – a philosophy based on the premise that the human intellect has the ability to contact spiritual worlds.
Maintaining spiritual continuity, Schaefer currently finds herself painting in the same studio formerly used by Parker, a space infused with the essence of spirits past, present and future. But now with a few additional spirits metaphysically invoked by Schaefer's special invitation – among them icons of 20th-century art: Lenore Tawney, Agnes Martin, Josef Albers and Hilma af Klint – from whom Schaefer draws inspiration from their use of shape, line, colour and geometry. 'Everyone is in the room,' she says of her process and influences. 'It's all integrated and intersectional – hard-edged abstraction, an illusion of space, literal and phenomenal transparency, the heartbreak of the world, and joy, Queer joy! I'm inhabiting these unfolding spaces and inviting people in. These paintings are not prescriptive; they don't land in one lineage.'
With intense colour, shrouds of translucent paint, and marks that read as subtle threads, her paintings expand on a tradition of male-dominated, hard-edge painting by offering a queer feminist reinterpretation. The expression of light, or more specifically the ancient light as revealed to us by the James Webb Space Telescope, and the distortion of physical space as illustrated in the stage sets of German Expressionist cinema, are both weighty sources of inspiration.
And what better setting to house all of these disparate sources of intrigue than a studio space, the interior architecture of which could not be more random and unexpected. Its bizarre, prismatic configuration of walls, ceilings, windows and floorboards confuses and distracts. Yet from the confines of this chaotic vortex Schaefer's own unique sense of divine order emerges onto canvas and a herding of cats is achieved.
Housed on each wooden panel is a multifaceted universe channelled through the guise of a singular, painterly moment in space and time, a moment made manifest by a converging multitude of coloured planes. The viewer is invited to 'Be Here Now' in the words of the American spiritual teacher Ram Dass, but with the unspoken caveat that no two 'nows' are identical. For 'now', is in a perpetual state of transformation and its only known constant is change. The transformational quality of change is inherent to the intent behind her work, Schaefer explains, 'I want the work to reveal itself over time and to be open enough to disclose something new as the viewer/collector changes and grows. I am interested in leaving space so that the tension in the unresolved elements gives room for the viewer to explore.'
Like the dialling of a kaleidoscope – each turn birthing a perfectly unique and impossible-to-replicate configuration of colour, shape and pattern – Schaefer's works bear an infinite multitude of messages and meanings housed in the painted semblance of strangely configured and ambiguously lit spaces. Spaces that possess a myriad of access points intended for viewers and future stewards of the work to enter and claim their own message and to derive their own meaning.
Information
Karin Schaefer: 'Continuum', until 5 November 2022 at Sears Peyton Gallery, New York. searspeyton.com (opens in new tab)