Artist as archaeologist: Susan Hiller's first solo exhibition at London's Lisson Gallery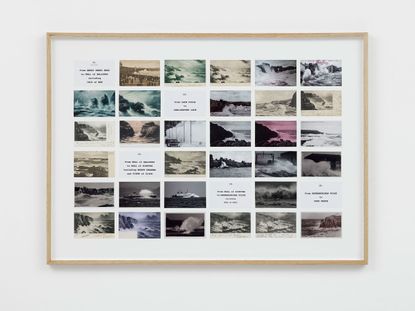 (Image credit: Jack Hems. © Susan Hiller. Courtesy of Lisson Gallery)
The art of Susan Hiller is not easy to get to grips with. There is almost six decades' worth of it, for a start. And it's varied; it helps to know that she studied film and photography, archaeology, linguistics and anthropology, though not all at the same time and not in that order. She rejected anthropology's claims on rational distance if not the taxonomic impulse. And all of that is in Hiller's debut show at London's Lisson Gallery; her first in the city since the major career survey at Tate Britain in 2011.

As Hiller, says, her work is clearly an act of archaeology but she digs into unusual spaces, mostly systems of belief and dis-belief, and in unusual ways; bouncing between medium – from assemblies of found objects to pioneering multi-media work.

Hiller has a peculiar and continuing fascination with extra-scientific phenomena – or perhaps consolations of a spirit-world now outlawed by rationality, or just plain outlawed. Works such as Mary Essene (1975–81), Alphabet (1985) and this year's Facing The Real (2015) deal with paranormal activities like telepathy, unconscious transmission and automatic writing. The Photomat series, started in the 1970s, are ghostly grids of photo booth portraits covered with indecipherable scrawl; images from some other side.

The show also includes Belshazzar's Feast, the writing on your wall (1983–84), the first video installation piece bought by the Tate and shown here in its campfire version; Wild Talents (1997), which riffs on horror movie portrayals of the occult; while Resounding (Infrared) of 2013 matches stories of flying saucer sightings with images of verifiable cosmic wonders. The exhibition also includes Hiller's series of homages to other artists – Joseph Beuys, Gertrude Stein and Marcus Stein – though these pieces too touch on the mystic, what Hiller calls her 'paraconceptualism'.

The centrepiece of the show is On the Edge (2015), 482 postcards of 219 costal locations in the UK, mostly savaged by waves and storm-racked; miniaturised, mailable claims on the sublime.
INFORMATION
'Susan Hiller' is on view until 9 January 2016. For more information, visit the Lisson Gallery website (opens in new tab)
Photography: Jack Hems. © Susan Hiller. Courtesy of Lisson Gallery
ADDRESS
52–54 Bell Street London NW1 5DA
VIEW GOOGLE MAPS (opens in new tab)