Artbo 2018: highlights from the 14th edition of the Bogotá fair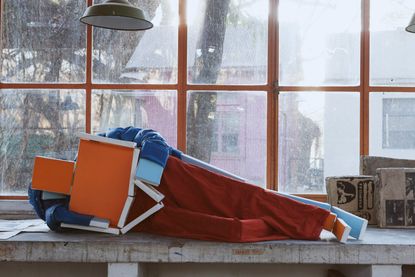 (Image credit: Isla Flotante, Buenos Aires)
Bogotá's Artbo fair recently closed its 14th edition, drawing more than 35,000 visitors to its showcase of 70 local and global galleries. While the government-backed event may not seem a likely choice for the creatively charged, strong direction from Colombian tour de force María Paz Gaviria ensures there's plenty of reason to make the foray to the city's Corferias convention centre.

The Proyectos section curated by Emilio Valdés was a standout this year. Argentinian gallery Isla Flotante exhibited artist Mariela Scafati, whose anthropomorphic works defy traditional expectations of painting. Guided by principles of modernism, colour theory and her training as a graphic designer, Scafati's installations propose 'that a painting is not an image but a visual punctuation in space'.
Trapy, 2017, by Emmanuel Nassar, painting on plate and wood, at Kubikgallery's booth. Courtesy of Kubikgallery, Porto. Photography: Cámara de Comercio de Bogotá / 48 por Segundo

Porto-based Kubikgallery devoted its booth to a solo presentation by São Paulo artist Emmanuel Nassar, who uses found materials from junkyards, garbage containers and hardware stores. Düsseldorf gallery Wildpalms put forward a captivating suite of paintings by American artist Jason Duval, while Malaysia-born Mandy El-Sayegh drew parallels between the constant upheaval in Palestine and the social climate of Bogotá at Instituto de Visíon's booth.

Large-scale installations were peppered throughout the fair, adding a dose of visual drama to the grid of white booths, including Carlos Cruz-Diez's Technicolor labyrinth of coloured sheets and Carmen Agote's suspended work composed of fine clothing and muslin fabric, with patterns inspired by the photography archives of the Garden de las Esculturas in Mexico. An unexpected piece of performance art came in the form of well-heeled attendees attempting to produce rain by walking in a 5m-tall rolling wooden wheel, part of Milar Lagos' interactive installation.
INFORMATION
For more information, visit the Artbo – Feria Internacional de Arte de Bogotá website (opens in new tab)